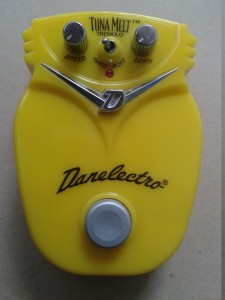 What is it?
Danelectro DJ5 Tuna Melt Tremolo from Dano's mini effects series.
This is one of those that should not be overlooked no matter what opinion you may have about the box/jacks/switch/whatever. Definitely one of the best and most desired boxes in the mini series in addition to Chicken Salad and a few other units. This will always have much more of user than collector value. Opening the  bottom plate reveals the basic electronic switching board, common to the mini series effects.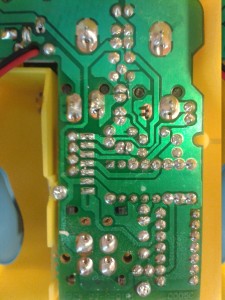 But taking that lower board off reveals the effect board. As always, the pots are just bigger trimmers with knobs attached to them, Hard/Soft switch is your standard submini on-on and so on. But wait. What's the black blob next to lower opamp? Analog optoisolator (or also known as vactrol)!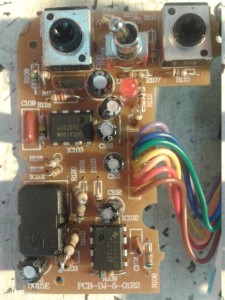 So it is optical tremolo and it sounds like it. There are a few different ways to create good tremolo effect. Using analog optoisolator is one of the best. Optoisolators consist of two parts, the LED and LDR. LFO pushes the LED part to blink, which alternates the resistance of the LDR according to LFO speed. Which then causes the signal to go up and down in amplitude. Like i said, there are other good ways too. Here we have two TL072s for the modulation mixer amp and LFO driver. The modulation is applied to inverting input of the amplifier.
Quite simple design, now that i think of it. Mr. Clay Jones has drawn a traced schematic back in 2005. Found on FSB, here. The schematic shows that there are two switchable LFO wave forms. Other uses one half of other opamp and other has a transistor for faster decay.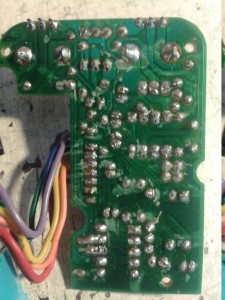 Soldering work looks like the person soldering the components doesn't really care for his/her job. Looks quite bad actually. Sad thing, but what do you expect from pedals in this price range?
I'll post one more shot of the traces. Those looks pretty neat now don't they!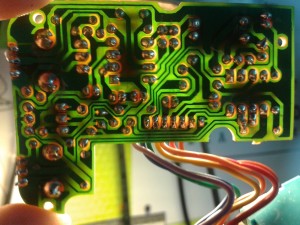 Edit: The design has a "flaw" that i've run into earlier, but for some reason i've dismissed it. The depth control works only for the soft setting of the LFO wave switch. The control does nothing when the hard mode is engaged. The schematic mentioned above will confirm this.There's no chance the depth control will do anything when using the hard mode. Also, i've seen photos with Tuna Melt units with three knobs instead of two and the switch, but i've never seen an actual unit with three knobs. I think there will be more updates to this post at some point…
How does it sound?
Very good. Both controls, depth and speed have a wide variety of useful stuff on the sweep. It sounds very mellow and soft, even with hard settings switched. Not as choppy as it could be, but this is still very nice tremolo. If you can score one for cheap – go for it.