Thursday, March 26th, 2015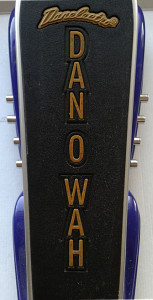 What is it?
Danelectro DW-1 Dan O Wah. Made in china in around 1997.
I sourced this one a long time ago. If i recall correctly, i got it in a trade and there was (and still is) very little traces of use. Gee. I wonder why. That being my first thought about all Dano rocker pedals, i didn't have too high hopes. I do recall this not working at all when it first arrived. After checking it, the only issue was just loose solder joint at the DC jack. Unit worked fine with a battery and that's how the seller deemed it as "working". Quick and simple fix later i was ready to do some more studying.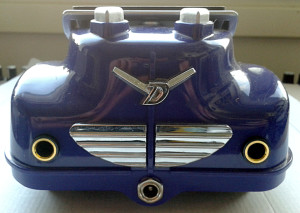 The outside of the unit is per the rest of the rocker pedals. Looking like a car and having it's rubber feet looking like wheels. As the controls are not conventional pots, the idea of having the user manual printed in the bottom is not a bad one.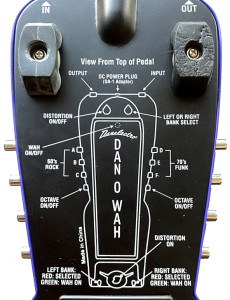 The number of features pictured in the manual shows that there must be more to the circuit than just a standard wah. After all, we are talking about six different wah voicings, all with and without added distortion and up octaves.
Opening the bottom plate confirms my suspicions. Yeah. This hasn't been drawn over a coffee break. This amount of components and features is something that comes by once in a while, but it's not your average "let's just copy the cry baby and leave it at that". I'm not going to dig too deep into how it is made. I do have my suspicions about the electronic design(s), but i'll talk about those a bit later.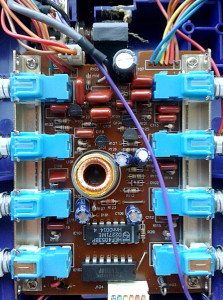 To begin with, the electronic design has number of switch circuits to select between the modes and banks. The idea of using "banks" in simple analog effect isn't that common. The "exhaust pipes" act as push buttons that choose the wah mode and if the octave is added or not. Bank, wah and distortion can be turned on with the stomp switches on the front end. This means that the octave can be used in the other section of 60's/70's style modes and the second can be without it. Distortion can be engaged from the top buttons separately.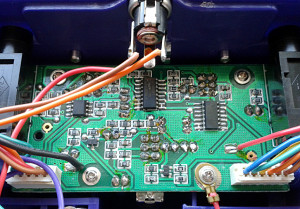 Through hole components on the wah/octave board seem nice. Mostly metalized polyester caps. If the enclosure was metal or just sturdier, this might have been a big hit. Other than  the enclosure, there is very little wrong with this effect.
How does it sound?
At first, pretty standard wah with couple of different voicings on the switches. Add the octave up and the good vibes are coming closer. Add the distortion, and we're at tonal beach sipping ice cold pina coladas with no hurry to go anywhere. Wah tones are, well. Standard. Not too far off from your basic Cry Baby and/or Vox wahs. The distortion feels generic, but it works great with the wah. Now, when the distortion and octave are both added it's almost like we have fOXX Tone machine paired with vintage wah. Not bad. But the platicky feel and utter unroadworthiness give their weight for the unit. Due to these shortcomings, DW-1 won't ever reach the status the design would deserve. Close, but no cigar.