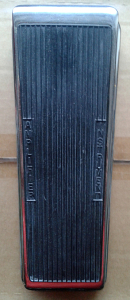 What is it?
Carlsbro AC1160 Wah Wah. Made in china around mid 00's.
A wah in a standard Cry Baby sized enclosure, but instead of the basic black, the surface is cool looking chrome. By starters, i must confess that i'm not a big user of wahs. Since i taught myself to user choruses, i still noticed that those can't be used in as many applications as one might have thought. Same goes with wahs. Some folks will love them and use them a lot. For myself, i just don't see it. I've tried to keep and use one on my main board a few times, but no. For me, the wah use is for studio sessions and mainly just doubling the overly fuzzed lead parts to get more lively overall tone. But that's it. I just don't use them. I think i do know how to use them (short, quick sweeps to accent the notes and/or long slower sweeps for the funkier parts). Still. No.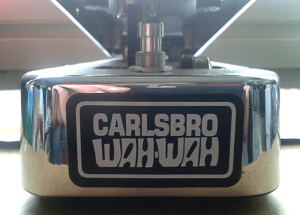 Got this one from a friend with bottom screws, battery door and rubber mat from the top missing. All those parts are quite easily available, but they do not come that cheap. Since i though i'd like to have this in my collection in as pristine condition as possible, i restored it to it's original state. It's in decent condition, and yes. It is very nice thing to have in the world of hundreds of different wahs. The enclosure and the board have the same footprint as most other commercial wah pedals. Meaning that one could very easily swap the board for standard Cry Baby or Vox board. The board layout does look different from those two mentioned, but the inductor has the same spot as in Cry Baby. What comes to the enclosure, this model for the box has been around since the late 60's with only a few revisions. Since it ain't broken, why try to fix it?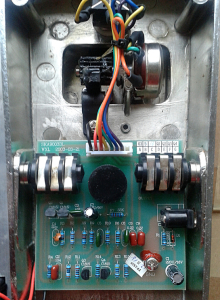 Must admit it. Simply due to lack of interest i haven't dug any deeper.  But taking the Carlsbro track record in to account, i highly doubt the circuit is anything out of the ordinary. The interwebs tells a story of the early Carlsbro wahs being just OEM'd Colorsound pedals. Since this is the 00's (or 10's), this may not be the same thing as it was 40 years ago. After all, this pedal is recent production and made in china. At one point i may try to get a hang of myself and just trace it. But for right now.. Nah. Once and if i get around to that, we will then know how this differs from other wahs. This post might get an update at one point.
How does it sound?
Not that different from standard GCB95 Cry Baby, currently manufactured by Dunlop. Well sweeping unit with solid overall feel to the construction and to the sound as well. Not much negative to say. But on the other hand, not that much positive either. Good solid sounding standard wah pedal. The same caveats that bother me with standard Cry Baby are in place. Annoying switching and no status LED. So in other words, this is decent vintage-like unit with nice amount of user value. Nothing special, but not bad. Nice and cool looking thing to have.