In all of the brands that have mass produced pedals, i find the Maxon/Ibanez to be one of the most interesting ones. There are lots and lots of original and intriguing desings, and there are some that are less interesting. I think it's safe to say that Ibanez is one of the reasons i'm collecting pedals.
Original Soundtank/5-Series
(6, complete)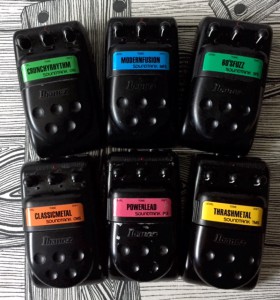 The original Soundtank/5-Series was introduced in 1989 and the manufacturing of the six designs in metal enclosures ended as quickly as in 1990. From the original six designs, only four made it to the latter, plastic soundtank series, leaving MF5 Modern Fusion and CR5 Crunchy Rhythm more or less collectible items.
Soundtank/5-Series
(18, complete)
The latter soundtank series was built in similar enclosures to the original series, but instead of metal, these new enclosures were made of plastic. Four of the original designs made their way to the new series, including FZ5 (which had a model name change at this point), CM5, TM5 and PL5. In total, 14 new designs were added along the way. The plastic Soundtanks were manufactured from 1990 to 1999. (note that the soundtank list is organized by colour coding):
Soundtank/5-Series (oddities & modded) (4)
These are the miscellaneous Soundtank units that probably should not exist at all.
Tonelok/7-Series (1999->)
(19, complete)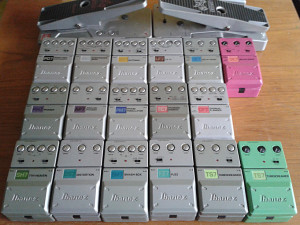 When Soundtank manufacturing seized in 1999, it was replaced with a new series called the ToneLok series. This series features a unique "ToneLok" pot mechanism that allows user to push the knobs down after the sound is set to avoid accidental messing with settings.
9-Series (1982-85, ~2000->) (8)
(8/19)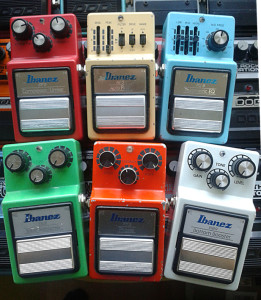 "Nine" series pedals were originally manufactured between 1982 and 1985. Later, Maxon/Ibanez started to produce reissues of the series and created a few new designs for the famous housing. TS9 started to appear in the 90's, while other reissues came along later.
Master/L-Series (1984-86) (13)
(12/17)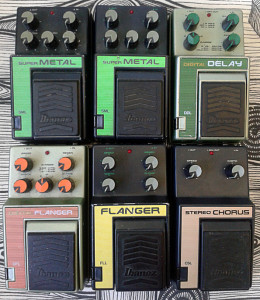 The follower to the discontinued 9-series was the Master Series. Master serie featured all new type of enclosure, made of aluminum.
Power/10-Series (1986-89) (26)
(25/36)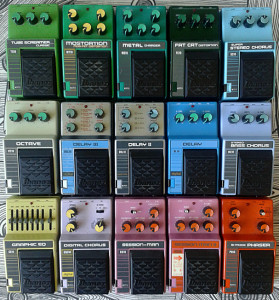 Follower to the discontinued Master series was the Power series. Power series has similar aluminum enclosure as the Master serie. The stomp lid that covers the battery compartment was changed to all hard plastic, instead of Master series lids that have rubber mat over them.
Other Ibanez/Maxon (18)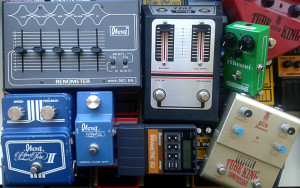 Here are the units that do not belong to any of the series listed above.