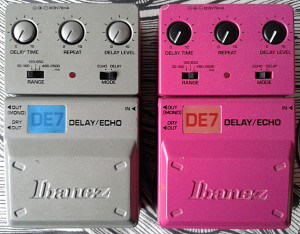 What is it?
Ibanez DE7 Delay/Echo from 7/Tonelok series.  Made in china around 1999-2002.
Couple of Ibanez delays hold a few remarkable places in my personal favourites. The DE7 ranks very high on that list. I set up photos with two separate units, side by side, since while the electronics remain the same on both units (DE7 and DE7C), the pink one is limited edition and the standard grey is the basic version. I have no idea what the manufactured numbers are, but pink ones tend to be seen rather rarely. In case of comparing how often different DE7 models come up for sale, that is. Both cosmetic versions are relatively easy to find through auction sites and the prices being asked have not (at the time of writing) gone through the roof. Not sure if they ever will, but if you are interested in having one.. You should probably grab one now.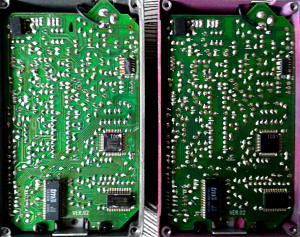 The boards on both versions are exactly the same. Two-sided, modern traces and soldering quality on par with every other Tonelok-series pedal. I'm not aware of the manufacturing factory of this series, but i would not be surprised if it was the same factory behind the Marshall small metal cased series.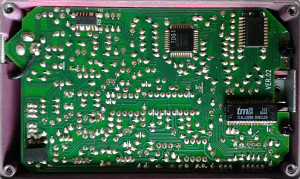 Construction with mostly through hole components and a few surface mount chips on the bottom looks like a killer. On the other hand, the number of links on the board.. Seems like the design is based on dedicated digital delay circuitry, rather than on DSP.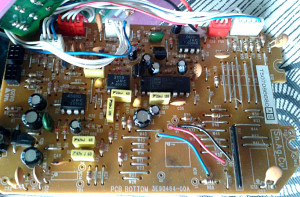 What comes to features, there are your standard Delay Time, Repeats (aka feedback) and effect level knobs. In addition to those we have two slide switches, first one setting the delay time range. There are three ranges that vary from 30 milliseconds to 2600 milliseconds. 2,6 seconds is rather long time and this may even scare the DD-7 folk. On the other features, like tap tempo and whatnot, DD-7 takes the cake, but the price range is completely different. The second slide switches between Delay and Echo modes. Delay being closer to modern standard digital delays and Echo is modelling the vintage echo sounds. Simple features ensure ease of use.
How does it sound?
Next to perfection. Even the digital delay sounds are not harsh, but remind one of smooth analog sounds. Without the noise and with long delay times. On echo mode the sounds are even more mellow. The attack for both modes make you forget that you are using a digital pedal. Natural sounding delay with massive delay times. What's not to like?