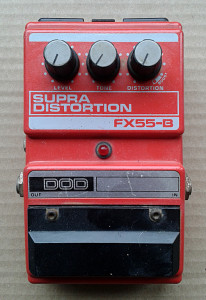 What is it?
DOD FX55-B Supra Distortion. Made in US, early 1990.
One of the pedals that DOD sold a lot back in the day. I assume this probably was the first pedal for many people in the late 80's and 90's. And why not. Widely available and in a low price range. The name was originally a Super Distortion, but due to aggressive protection of the trade mark by certain DiMarzio, the name was changed to Supra pretty fast after the initial release in 1986. This was exactly the same thing that happened with Boss DF-2 Super Distortion & Feedbacker. The first units with Supra written on then came out later the same year, leaving the first 6 months of Super Distortions as collectible items. These are rare to the degree that i've seen only one or two for sale so far. The supra versions are very common though. And they do come cheap.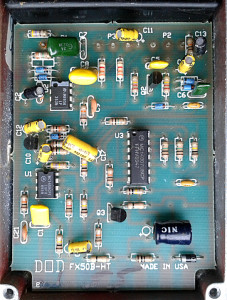 What comes to the design, there is a schematic up at Fuzz Central. To begin with, the idea of this being some sort of Boss DS-1 derivative is completely false. As the schematic suggests, there is a gain stage with diodes in the feedback loop and the gain control is derived from OD250. After that there's a hard clipping stage, the volume control and pretty clever tone section. All this accompanied by standard DOD electronic bypass switching and 1458 with both channels used for in/out buffering. Nice design and not as common as one might have first thought.
How does it sound?
Here's the culprit. Sluggish on the output level and the overall result is just lacking personality. Slightly cutting the lows and while the tone control works pretty well, there isn't that much good to be said. If we take comparison out and compare this to Boss DS-1, we have a winner here. This victory doesn't mean all that much, but still. If i had 40€ to burn for a mod base, i'd get FX55B over DS-1 for sure. Just double up on the hard clipping diodes to get a bit more volume out of it and tweak a few of the cap values. Should make a nice beast of a distortion.
As a stock pedal. Not great.