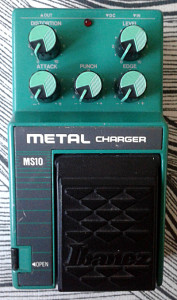 What is it?
Ibanez MS10 Metal Charger from Power series. Made in japan between 1986-89.
Apparently, these units were a big seller. Which is once again something that i find intriguing. How does a very average distortion design with obvious fault in it become a big seller? I really do not know the answer to that question. Do you?
The fault i'm talking about is the low output level, which doesn't rise above unity even with both, Level and Gain controls maxed. Gladly, this fault can be addressed with relative ease, as i've done with my unit. I do feel quite sad about that, as most people tend to think this is a collectible unit and so it's ok to keep asking near astronomical prices for very common Power series box – with a built-in fault. No question about it. If i come across another unit in decent condition, and more importantly, for a reasonable price, i'll grab it.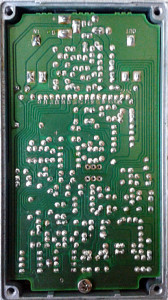 One of the dullest board designs in the series. The circuit design is quite complex with couple of separate clipping stages. As you can see from the photo above, i've removed one of the hard clipping stages to get the overall level up. Also swapping/upping one of the caps from the tone section is a thing i recommend. That way you can get more bass in addition to standard Ibanez mid-hump.
For some reason i'm missing the component side photo of this unit. I wouldn't be bothered. The SML from Master series uses the same board.
How does it sound?
To me. Not much like anything. The more bass and omitted one clipping section do make it a lot better, but still it is nothing more than mild distortion driver. With the mods the overall tone is a lot more overdrivish than anything that i'd associate with a "metal" distortion. Stock unit works the best with a high gainer tube head – when pushed into the drive channel. Modded one works well as a standalone overdrive too. Not the worst distortion pedal there is, but definitely not among the best either.
Despite everything. I'd recommend the mods.