Here, on this page are the lists of all the other brands. The ones that do not qualify for their own sub pages. At least not yet.
Pearl (6)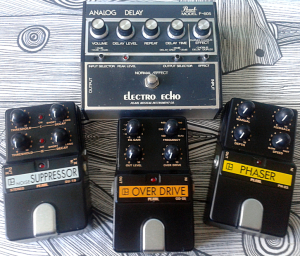 Nux (19)
New Analog series (2013-) (6)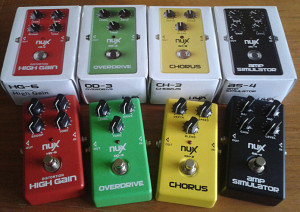 Nux HG-6 High Gain
Nux DS-3 Classic Distortion
Nux AD-3 Analog Delay
Force Series (2) (2/4)
First Series (12)
OD2 Vintage Overdrive
HG5 Modern High Gain
FB2 Modern Freq. Booster
FZ2 Vintage Fuzz
CO2 Vintage Compressor
PH2 Vintage Phaser
CH2 Vintage Chorus
FL2 Vintage Flanger
AB3 Router Switcher
PT5 Pedal Tuner (Cherub branded)
Marshall (11)
Big black series (2)
(2/4)
Small metal series (9)
(Complete)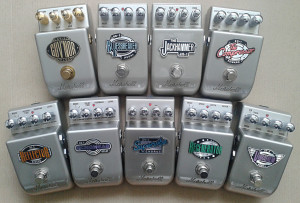 ED-1 Edward The Compressor
SV-1 Supervibe Chorus
Arion (8)
Original series (8)
(8/32)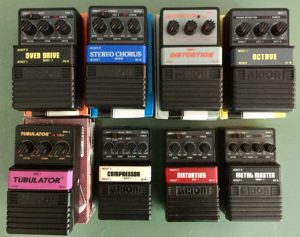 SOD-1 Overdrive (SLRI)
SDI-1 Distortion (MIJ)
SMM-1 Metal Master (MIJ)
SCO-1 Compressor (Stereo, MIJ)
SCH-Z Stereo Chorus (SLRI)
Cherry Music Mighty Sound (8)
Chetty Music released their mini pedal series in 2014. The quality has been nice and the price point is among the lowest. Very decent modern mini pedals. Extra note for stealing Social Distortion's logo for the distortion pedal's second version.
Mini series (All with V2 graphics) (8)
M1 Distortion
M2 Overdrive
M3 Fuzz
M4 Chorus
M5 Delay
M7 Compressor
M8 Flanger
PT-6 Pedal Tuner
Tom's Line Engineering
(29)
Tom's Line Engineering has been producing extremely cheap pedals for a few years, probably since 2013 or so. The first two series were manufactured with questionable build quality. The third series, which i'm calling the "Later Mini Series" offers quite a range of different pedals with never before seen in a mini pedal designs. And again – with questionable build quality. Most of the designs are digital and next to impossible to fix by conventional soldering iron. Plus the price suggests that the broken ones should be considered as trash. By now, i've received couple units in defunct or broken state on arrival. You can guess what kind of hazzle it is to return $25€ pedal to china and wait >8 weeks for replacement. Yup. Not worth it. I may get these all only to sell the complete set of (working) pedals. A few of these are good, a few ok and most sub-par. No way these'll ever get their own sub page.
Later Mini series (29)
(Complete)
AAS-3 AC Stage – Acoustic Guitar Simulator
ABT-3 Black Teeth – Vintage Distortion
ABY-3 Bluesy – Vintage Blues Overdrive


ADR-3 Dumbler – Dumble Amp Simulator

AEB-3 Bass EQ – Analog Five Band Equalizer
AEG-3 GT EQ – Analog Five Band Equalizer
AFM-3 Firecream – Vintage Distortion
AGF-3 G-Fuzz – Vintage Germanium Fuzz
AGR-3 Greenizer – Vintage Overdrive
AHAR-3 Harmonizer – Harmonist / Pitch Shifter
AHOR-3 Holy War – Metal Distoriton
AKF-3 Funk Machine – Auto Wah
ALR-3 Liner – ABY Line Selector
AMC-3 Manic – High Gain Distortion
AMO-3 Mario – Bit Crusher
AMS-3 Mod Station – Modulation Ensemble
AMX-3 Matchbox D.I.
AOS-3 Octpus – Polyphonic Octave
AOV-3 Ocean Verb – Digital Reverb
APE-3 Pure Echo – Digital Delay
APN-3 Plexion – Brit-Stack Simulator
ARE-3 Roto Engine – Rotary Speaker Simulator
ASF-3 S-Fuzz – Vintage Silicon Fuzz
ASH-3 Slow Hand – Volume Sweller
ASR-3 Shaper – Cabinet Simulator
ATP-3 Tube Pusher – Valve Combo Simulator
ATR-3 Twister – Analog Flanger
AVS-3 Vacuum Stack – Valve Stack Simulator
AT-07 Chromatic Tuner
Other (96)
Artec LE-BBT Black Battle
Barber Direct Drive
Barber Tone Press
BBE Stinger
Behringer VT911 Vintage Tube Overdrive
Behringer BDI21 Bass amp modeler
Bogner Wessex
Caline CP-10 Hot Mushroom Comrpressor
Caline CP-11 Puffer Fuzz (modified)
Caline CP-12 Pure Sky
Caline CP-16 Mark 4
Caline CP-18 Orange Burst Overdrive
Caline CP-19 Blue Ocean Delay
Caline CP-22 Purple Smoke Clean Boost (modified)
Caline CP-25 Highway Man Overdrive
Caline CP-30 Red Devil Heavy Metal
Caline CP-32 Clear Veil Overdrive/Fuzz
Carl Martin Red Repeat
Carlsbro Fuzz (Sola/Colorsound's OEM Tonebender MK III/IV)
Carlsbo Minifex Phaser
Clonewerk Plexi
Coron Cross Over 85
Differential Audio Manifestations FR-70 Fuzzrong
Differential Audio Manifestations GB-83 Greasebox
DigiPlay OD-30 Overdrive
Dunlop GCB95 Crybaby (mods)
Dunlop ZW-45 Cry Baby Zakk Wylde Signature Wah
Fuchs Royal Plush Compressor
FYA Electronics Apiformis Fuzztortion
FYA Electronics Fancy Chance Fuzz
FYA Electronics Trixie Malicious Fuzz
Genuine Dino's Tone Dynabox
Guyatone HDm5 Hot Drive
Hao RD-1 Rust Driver
Hawk HR-12 Echo Unit
In-Line Effects XE-752 Analog Delay/Stereo Chorus
Keeley Super Phat Mod Full Range Overdrive
Lell CH-9 Chorus
Lell FL-3 Flanger
Malekko Omicron Chorus
MG Music That's Echo Folks w/ Pig Tails
Mooer Wahter
Mooer Pro Series Re-Echo Pro
Mooer Pro Series Reverie Chorus
Noah's Ark Distortion "M"
Option 5 Destination Delay X2
Pigtronix EP-2 Envelope Phaser
Pigtronix Octava Micro
ProCo Rat2 (Modern RI)
Radial Tonebone Hot British
RaygunFX Octavia Phuzz
Ricken's FR-III Fuzz (x2 one clean per original and one slightly modded/fixed)
Rocktek ADR-01 Super Delay
Seymour Duncan SFX-01 Pickup Booster
Solec DO-131 St. Dist. + O.D.
Studio Series DS-01 Distortion
TC Electronic Polytune
TC Electronic Grand Magus Distortion
TC Electronic Honey Pot Fuzz
TC Electronic Afterglow Chrous
TC Electronic 3rd Dimension Chorus
TC Electronic Drip Spring Reverb
Wampler Fuzztration Fuzz/Octaver
ZVex Machine
ZVex Vextron Distortron
Here's one more photo of a few wah pedals: