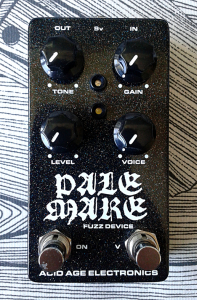 What is it?
Acid Age Electronics Pale Mare Fuzz Device. Made in USA and judging by the serial number, the unit is most likely made in 2013.
Seems like Acid Age electronics came to be after the brand Earthbound Audio seized to exist. And Acid Age Electronics seized to exist later and currently there is a brand called Earthbound Audio. Confusing, isn't it? Either way, the pedal landed on my desk in a trade. Sure i was interested in the box, but not enough to have spent the money foolks were asking for it. Little did i know. The marketing texts online are pretty straight forward and honest about the design. According to that text, the design is a derivate of old Roland BeeBaa fuzz. That's something you don't see too often. And next point for my "little did i know" phrase comes real when the bottom plate of this beautiful, screen printed, black prism colored, powder coated enclosure is removed.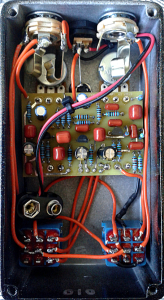 When i get my hands on a small brand pedal, this is what i want to see. A quality build with no corners cut and no money or time saved on stuff that really matters. Sadly, this isn't what i usually see. The usual hack jobs give a bad name for small brands, but seeing something like Pale Mare restores a bit of hope for the humanity. I don't have any deeper insight for the circuit yet. I may have to study this unit with a magnifying glass soon. Still. The board looks very well made and the hand wired parts look like the guy who build this is truly passionate in creating pedals.
I must say that i'm not a fan of two stomp switches on a vertically aligned 125B sized box, as that takes extra effort for aiming. And that's not something i want to do on gig. Basic controls are level, tone and gain. First switch is the bypass. The second switch activates the Voice control, which seems to affect the fuzzy gain of the middle frequencies. In other words, this feature adds a boost that can be used to kick the tone a bit louder. Nothing earth shattering about the controls, but i still can't get my mind off of the neat build quality and overall greatness of the design. What's worse, now that i know AAE, nowadays Earthbound Audio, produces this kind of high end builds for very decent prices, i can easily see myself getting another one from his catalog. And what's even worse…
How does it sound?
This sounds just beautiful. I myself have tinkered with BeeBaa circuit and have loved it from the first second i heard its tone. This does not sound like a clone of Roland BeeBaa, but there is some of that magical mush fuzz in in there that definitely has its roots in the BeeBaa. Overall, this sounds just thicker and more modern than its idol. Fair and usable upgrade to the vintage design. In my opinion it's always better to redesign and recycle obscure old circuits than to tweak the Big Muff and the Tubescreamer, and to claim those as a new and an original designs. Back to the subject at hand.. The controls have full working range, meaning that there is usable tones in every possible setting. And the Voice control/switch adds more content to the tone when activated. Just amazing fuzz. It has very little to do with the fuzz faces or big muffs, but it lands a lot closer to mushroom cloud blasts that are usually associated with stranger sounding 60's and 70's boxes.
For its sound, design and build quality. This is the shit. Probably the greatest small brand pedal i've ever had.