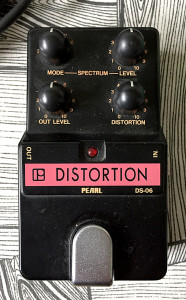 What is it?
Pearl DS-06 Distortion. Made in japan, early 1980's.
Simply an overlooked gem. Somehow this unit has slipped through all the classic listings while the overdrive and a few others in this series is highly considered and still receive praise from time to time. It is a distortion unit, so i wasn't expecting much. The controls did look somewhat out of the ordinary, but i didn't bother to do much research as the opportunity rose to get one in a decent deal. Once the unit arrived, i took it for a spin and snapped couple of photos. Opening the unit up showed very neat old school traces with pretty hand drawn feel to them. The board looked also pretty full, so at this point it became rather obvious that the electronic design was not your standard rip off of any popular design.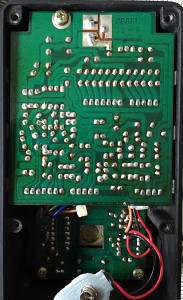 Flipping the board showed the terminals in use, but all the rest is laid out in a beautiful manner. The heart of the driver is a JRC opamp and i mostly due to those terminal strips, i was expecting to see a stacked board setup with board mounted pots. Not the case here.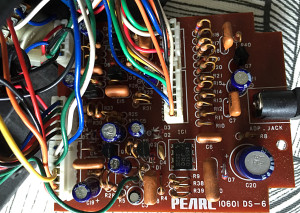 The second board houses the switching part, but all the pots and the rotary switch are hand wired. Clean work and production must have been quite labor intensive. In other words, this is a prime specimen of japanese craftmanship of the early eighties.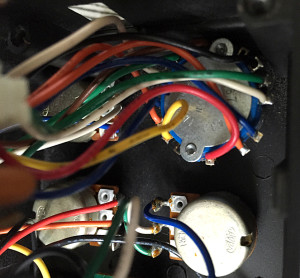 To be honest, none of the pedals from this Pearl series have been poor. Quite the contrary. But. That's not all.
No research, so the features were not familiar to me beforehand. At the first test run, the Out level and Distortion knobs acted like expected. But as for so many other distortion units, the tone controls are called "Spectrum". Instead of just single tone control, we have a six position rotary switch for six different frequency range settings, accompanied by a Level knob. These six modes set the general, or a peak frequency for the overall tone and the level knob set the boost amount of that frequency. With this setup, the available frequency range is next to unlimited.
Sadly, no schematic available.
How does it sound?
At first, like so many other distortion units. Decent, but not great output level with well working distortion control, which ranges from well balanced overdrive to full-on thick distortion. Nothing mind blowing, until we start to tweak the tone with with the spectrum controls. Then. Boom. This beast does everything from glass shattering treble mayhem to massive mid hump that rips the heart out of any tubescreamer, to all the way to a wallpaper removing, bassy doom distortion. And everything in between. Even the worst sounding settings will serve a purpose. If i've been calling some distortion units versatile, this word is very much insufficient here.
Good distortion tones with one of the greatest tone control sets i've ever heard on a distortion pedal. The controls are not amp-like, but extremely usable. Simply, an overlooked gem.