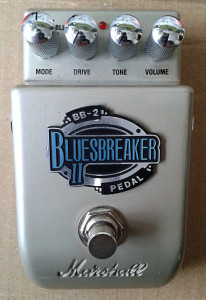 What is it?
Marshall BB-2 Bluesbreaker from small metal series. Made in china around early 00's.
The Marshall pedals are are strange phenomenon. I feel like i've talked about it, the same thing earlier. Where nearly every single Marshall amplifier ever made has a status that every guitarist knows about. Even the floppiest, bad amplifiers are good for the purpose they were designed for. I think Jim's passing in april 2012 did affect a lot of people. Not as much as S. Jobs' but still. Jim wasn't as controversial character and i think it would be safe to say that everyone liked him and loved his work. For reason unknown to me, the Marshall pedals did never gather the mass admiration like the amplifiers did. Of course, the early pedals have become super rare gems and the big black box series is nowadays highly praised. Which it wasn't when the series was originally released. Same thing applies for the small metal series. No one was hyping the series when it came out. But if i'm being truthful, the series is well made even though it's of chinese origin, the designs are not bad at all.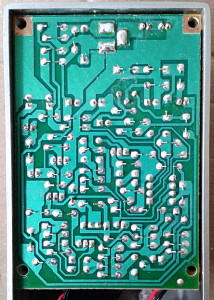 Well made, but dull modern traces that are found in every design of the series. Lots of outboard wiring, but almost all of those are done with terminals instead of hand wired connections. Standard, non-surprising selection of components – TL072 dual opamp and red LEDs for clippers. Someone has posted a factory schematic here. There are noticeable similarities with the original Bluesbreaker, but with some added features. Mainly the Boost option.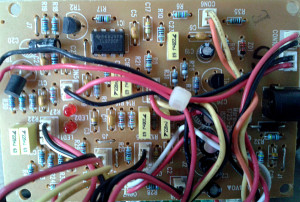 The basic topology here is buffer -> boosting stage -> clipping amp (LEDs in feedback loop)  -> recovery stage (which is something to check out) -> tone control -> volume control. The boost mode bypasses everything from boost stage output to volume control. So the design is quite versatile.
How does it sound?
Fairly nice. The boost mode is what it says – a clean(ish) boost with enough gain. Sadly, the clipping LEDs on the clipping amp in this configuration tend to sound a bit broken. Otherwise, it has similar overall feel as the original, big black unit. It is nice overdrive with hard, big sound. Is it even remotely a "blues" overdrive? Not sure. But it still sounds nice. And you should be able to find one for cheap. At least for now.