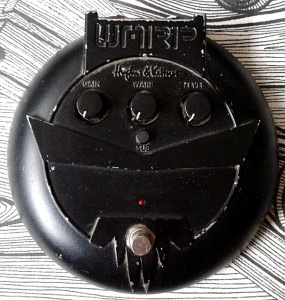 What is it?
Hughes & Kettner Warp Factor from early 00's.
The unit here has seen a lot of use before landing in to my collection. There are good reasons for pros and cons and both are weighting more than with usual pedals we see. Since the positive notions are all mostly on the sound, i think it's best too look at everything else first. Opening the bottom plate shows a massively sized modern board with lots of joints.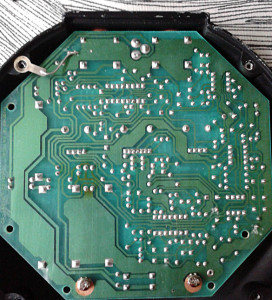 Flipping the board over. Everything is board mounted and number of through hole components is high. Not a bad looking board design, but as i am a huge fan of symmetry, it doesn't mean that much. Note the four 2200µF filtering capacitors. That's what we'll need when the design calls for 12V AC power supply. The supply is rectified to DC on board, which does explain a part of the board and enclosure size. The schematic can be found on the web (try freestompboxes.org), but since it isn't behind simple image search, i'm not posting it for now.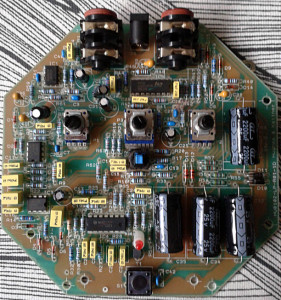 Design is rather huge, and the power supply section spews out +15V and -15V, with reference voltages per each polarity. We could say the unit runs at 30V. So this time there is a fairly good reason for running the effect with 12V AC supply. Circuit design and supply together, however, make the pedal big. And to have a need for 12V AC supply may also be a hassle. But then again, the 30V swing offers headroom that we won't reach with with 9V DC supply.
As for features, we have electronic bypass switching, level and gain controls, plus a deep tone control called warp. The sub switch boosts lows and low mids to a degree which is rather impressive.
Now, if the size was a bit smaller and this accepted more usual power supply…
How does it sound?
F*n awesome. From Marshall 2203 JCM800-styled massive rock overdrive/distortion to sheer metal madness, this unit sounds great on any volume level. From bedroom practice amp level to loud rehearsals and gigs. I've been a fool for many metal distortions before, but  none of them has ever left a impact of this size. Usually the drive/gain setting for metal distortions works in maximum setting or in some cases at minimum as well. For this one, the control range is simply usable all the way of the sweep. Added low frequencies from the sub switch make Boss HM-2's crushing lows feel like a mosquito passing by. While the usability may be limited, we still have a colorful range from rock overdrive to rock distortion to metal distortion to massive metal sounds. Very impressive pedal.