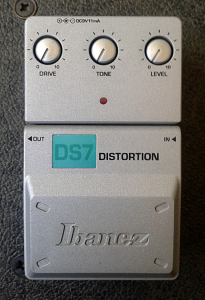 What is it?
Ibanez DS7 Distortion from 7/Tonelok series. Made in taiwan, 1999.
One of the Tonelok series early birds. Somehow i have a feeling the DS7 was discontinued earlier than the rest of the bunch. I think i see a point in this. Anyway. This one doesn't have any other controls but drive, tone and level. First thing that comes to mind is, could this be just a revamp of Boss DS-1? But then again. It's Maxon/Ibanez were are talking about. Even though the designers may have borrowed certain snippets from MXR and EHX in the 70's, i haven't seen much borrowing happening since. Or at least after the 80's. And once the bottom plate is removed, the board sure looks like it doesn't have much to do with anything simple.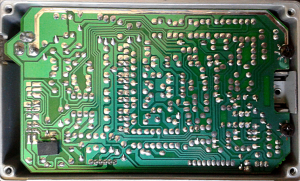 At this point i was like WTF. Ibanez DS7, the dullest unit of the series, and the main board looks like that? Once we take and flip the board, the sight is something completely different. Apparently some other units in the series use the same drill layout as a base and due to this the board's bottom looks like there is hundred things going on. While in reality there are just ten.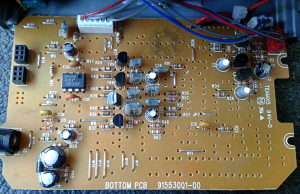 There is a factory schematic around the webs as a floater. It can be found at least in here. These factory schematics are horrible to read and interpret (i may need to redraw it for myself as this one hurts my eyes. And brains.). But if we focus, we can read it. We have input, bypass and switching buffers, obviously. For the main circuit, there's a driver amp followed by a hard clipping diodes shunt to ground. Then there's most interesting part. Quad gyrator based tone control. Nope. This isn't borrowed from DS-1. In fact, it has very little to do with any basic distortion design i've seen.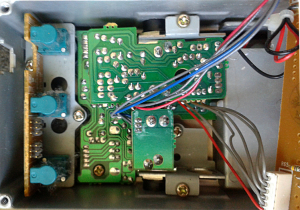 Rest of the box is per Tonelok series standards. Control board, jack boards and bypass board with indicator LED. Build and design quality are also on par with every other Tonelok box.
How does it sound?
Sadly. It sounds rather dull, faceles sand hollow. But due to boards being with through hole components and the gyrators are in plain sight, one should be able to tweak this to their liking. For gain and level controls, the ranges are sufficient, but nothing out of the ordinary. After seeing how the tone control is made,  i just had to give the unit another test run. Yes. Knowing gives a very different view to the tone control's behaviour. It is powerful, but may it be how powerful ever, the fact remain. Dull, faceless and hollow. With being rather noisy. Not a bad modern distortion, but not anything great either. Falls in somewhere between metal distortions and those ugly sounding 80's plastic things, while not being either. Strange bird. This seems like one of those units people throw away with trash. When you see one for 15€, grab it. It may not be good, but it's definitely worth that 15€.