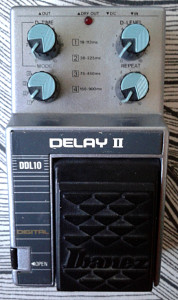 What is it?
Ibanez DDL10 Delay II from Power series. Made in japan around mid 80's.
Power series has way too many delays. What makes this fact even more sad is that these are all interesting designs. And most of them differ from others, so it's a painful series to collect. To begin with, Delay II has delay time ranges from 19-113, 38-225, 75-450 and 150-900 milliseconds. This is in addition to standard mix/time/feedback controls (they are called D-Level, D-Time and Repeat here). Nice range indeed. As the first gut shot below shows, the processor is MC4101F, which we can find on other Ibanez delays of the era as well. This unit also features a clean parallel output, so the delay can be mixed in later in the path…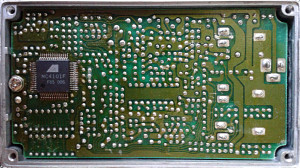 Ibanez isn't the best known brand for their full on recycling of board designs as many other manufacturers. Of course there are exceptions here and there where same board design has been rotated throughout different series and re-branded designs along the way. I have not counted the total of Ibanez/Maxon designs in existence, but the number should be somewhere around well over 200. For the six delay pedals in  Power series, which was produced for a brief time in mid 80's, we are bound to find some recycling. I still am assuming that the recycling of board designs for Ibanez is a low percentage. At least if we compare that assumed number to DOD board designs, for example. This model shares the board with one of the DML (digital modulation delay) designs. Somehow i think the "DDL" sticker to indicate on which design this board was meant to be used, is sympathetic.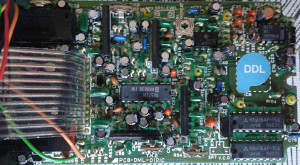 Once again i'm forced to leave this article somewhat a stub due to my limited knowledge of these massive digital designs. Nevertheless, i can't find a lot of negative things from this pedal. Not from the inside, nor the outside. As the units are reaching vintage age, the price of a unit in good condition is something interesting to follow. All of these are well made units and will withstand years and years of more use. Even the design is complex, i still see a long life for these boxes. Definitely a prime example why Ibanez (ok, Maxon) pedals are appealing to me.
How does it sound?
Great. There's no super cold metallic feel to the repeats in the same manner as most digital delays of the era have. Instead there is a certain analog feel to the sound. Ibanez has succeeded in this behavior in more than one or two pedals in their vast catalog of delay designs over the years. This unit is no exception. Well working controls with wide range of setting in addition to as natural digital delay sound as possible. There's not much to add, but Great delay. The capital G is there for a reason.