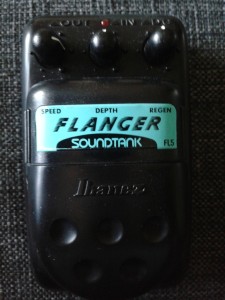 What is it?
Ibanez FL5 Flanger from Soundtank series in plastic enclosure, made in Taiwan, late in the 90's. So it's pertty new unit in my collection with only about 15 yesars of age.
According to notes from (one of my heroes,) Dirk Hendrik the circuit is pretty much verbatim clone of Ibanez/Maxon FL9, with delay control omitted. So in essence, it is poor man's version of one of the gratest flangers ever designed. MN3207/MN3102 pair driven by TL022 and two Mitsubishi 5218As for LFOs. One of the most crowded boards in the series. For some reason i can't find a schematic for this design, while FL9 schem can be found online. Anyone have a copy?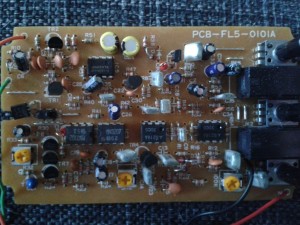 Circuit is a rock solid workhorse. I acquired one board as an addon to other deal some time ago (thanks Brent!). That board had some bad traces and all the caps were removed. One day, if i find the time, i'm going to try and resurrect that board. Maybe add the missing delay control and rehouse it in D box. That will be huge, but somehow i think it could be worth the trouble. The unit pictured above is my working specimen with high serial number.
How does it sound?
Nothing negative to say. Very warm and soft, while it can be turned to be massive airplane shattering windows in a small town. Exactly like its big brother. This box is really good to have. If you can score one for cheap, do it. You won't regret it. Just replace the switch and you'll be golden.