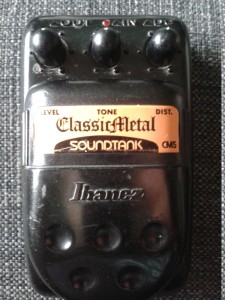 What is it?
Ibanez CM5 Classic Metal from Soundtank series in plastic enclosure, made in Taiwan. Condition could be better, but after swapping the switch it runs like a charm. I never thought that dents or scratches affected the sound in any way. Late 90's date, so this unit isn't the most valuable soundtank in my collection, but its value comes more easlily through use.
This is one of the pleasant surprises in the series. Name and basic controls do not raise interest that much, but once plugged in, my face just raises a smile. Clean high gain distortion without noticeable noise content. Simplified Rat as main gain stage that drives a pair of hard clipping diodes. Followed by two active gyrator filters for tone control and taking ecxess frequencies out of the signal. Standard Ibanez switching and buffering included. Simple, yet effective.
This one's gain stage could be modded closer to a Rat, but as it is – i simply don't see a reason to do so.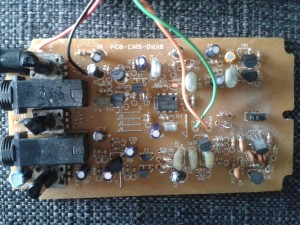 The board seems quite spacious when compared to some other Soundtanks. Basic, good use for JRC4558. Other half for gain stage and other for tone driver. Again. Simple, yet effective. For those interested, Dirk has a schem up at his site. All in a nutshell – its main stage may be based on a Rat, but overall design doesn't have too much in common.
How does it sound?
Surprisingly good. Subtle overtones for those high note bends, massive but accurate chord rhythms. In general, very underrated pedal with really good sound. It is just a one trick pony, but does that trick really well. One that should not be overlooked.