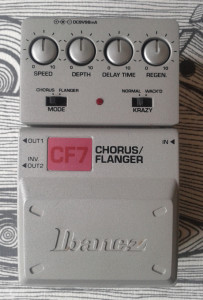 What is it?
Ibanez CF7 Chorus/Flanger from 7/Tonelok series. Made in china.
One of the more complex designs on the series offers digital chorus and flanger. No blue here either. But then again, it is a flanger too. Got mine for standard market price for used unit and almost pulled my hair off once i opened to parcel. I do not mind the nicks and scrathes, but one should never (NEVER) sell a pedal with "in good condition" label if it really isn't so. This one had all sorts of crud and human waste on it. That can be addressed with a towel and a considerable amount of turpentine. But the lost bottom rubber and dual-lock-velcro over the serial number is not exusable. Not in any way. So the bottom is practically raped and there's no chance of salvaging the serial nuber as it's just a paper sticker fastened to the type plate. I did let the seller know…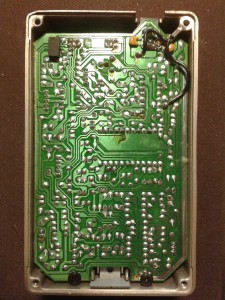 The horror didn't even end there. Just check what's going on in the picture above. To this day i have no clue what he was trying to do with adding two more caps and soldering the wire to the solder side of the board. Could be as it is supposed to be in the original, but i highly doubt it.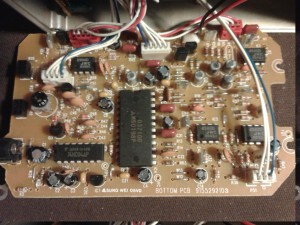 The source of all the crazy sounds is M50198 digital chip. The same one used in DSC10 and many other Ibanez digital effects. This time the designing engineer put the chip a good use and took it even further. The design has even more similarities with DSC10, but it has evolved to the next level. The "Crazy" switch seems to affect the overall delay time, but it is labeled as it is. With options for "normal" and "wack'd".This is in my opinion a landmark in digital flangers. A flanger's what it really is, although it can be used as a sub-par chorus as well.
As for the beaten and mistreated unit? I'm definitely on the look for reasonably priced replacement in a better condition. Once i find one, this one will have to go.
How does it sound?
In the gut of the metal worm! Blasted! Weird and good with enough options to drown you. From mellow classic chorus and flanger tones to metallic, cold chorus to shattering digital flange. Think of this as a bastard child of DFL Digital Flanger and DSC10 Digital Chorus. To me, this one is the shit. Amazing and very usable sounds for many purposes. Classic to noise.