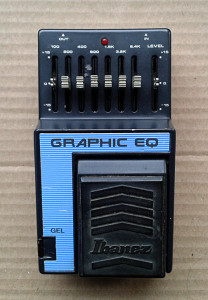 What is it?
Ibanez GEL Graphic EQ. Made in Japan, 1985.
Graphical equalizer from Ibanez Master series. Mine's missing two of the slide pot knobs, but otherwise in decent condition. What comes to similar EQs, there is basically two ways to get the job done. First is the oldschool method of using inductors to create tight band-pass filters side by side. And the second, obviously cheaper, method is to use active gyrators to achieve the same results. Soundwise the difference between the two is quite small. Inductors aren't as stable in changing the peak frequency as gyrators, but that's about it. One can read about creating graphical EQs from GEOfex' site. This article pretty much covers every single graphical and parametric EQ ever made.
At first, it seems that the GEL is just rehash of GE9 and predecessor of GE10. This is mostly true. The board design is completely revised in comparison to its 9-series sister and what's more interesting is the fact that the board design, from layout to traces, is more modern than the most other pedals in the L-series.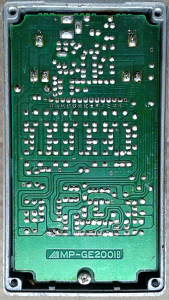 All the way neat, but much more clinical than the last batch of acid trip boards we find from most L-series units. Not that this would change anything for the better or worse. It's just different.
So. Due to linking the GEOfex article, there is not much more i can say about the electronic design. The board decisions are great. There is notable amount of symmetry in place and the work looks very professional. Just what you'd expect from a pedal from the series.
In all. It is pretty standard 7-band graphical equalizer with approx. 15db of cut/boost per frequency range. And what's the best part…
How does it sound?
Neutral. Adds very little of it's personal scent or feel to your tone. Exactly like modern equalizers should. Powerful tool in cool package. Although this might suffer from having slightly less personality that your usual Ibanez pedals, there is still nothing wrong with its sound. Good and versatile tool.
To be completely honest, i can't put my finger on anything that would make this better or worse than any other graphical EQ ever introduced to the public. So, in other words. It's not special, but it is very good at what it does. From subtle frequency correction to Lo-Fi cuts and all the way to big, massive, clean boost for the desired frequency areas. Not bad.