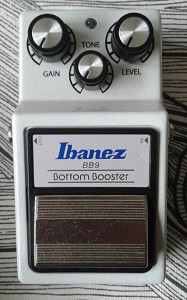 What is it?
Ibanez BB9 Bottom Booster, from modern 9-series. Made in china around 2010 or so.
There are only a few Ibanez designs that are more like meh. This is definitely not one of those. I had interest for this for some time, before i spotted one for reasonable price tag on one auction site. This particular unit was apparently a demo unit for some store. Very little wear and nice near mint condition with original  box and papers. Played with this for quite some time once i received it. There is a beautiful traced schematic up at Dirk's page, so there were no rush in seeing how it is made. Reason for opening it wasn't as usual as for most pedals.
That reason being a small mishap on the studio floor. I had just recorded all base guitars for 11 tracks of 12 for the album we were doing. I thought i needed to add a bit of reverb for the other effect line. I took my previously repaired Boss RV-2 out of the bag and chained it with all the other pedal in that chain. This resulted in nothing more but a hiss. Something went terribly wrong and my BB9 was dead. I figured it had to be some sort of power surge, but since i (obviously) didn't have suitable tools or spare parts with me, i had to make due with other solutions for the second effect line on the last track.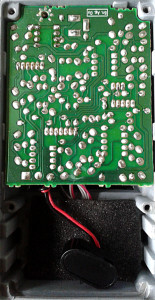 Once the unit was back at my desk, the fault was easy to track down. No power. This is where Dirk's schematic came in really handy. Don't know how that surge occurred, but it burned the DC-DC converter (a.k.a. charge pump) chip. As you can see in the (crappy) photo below, the chip on top left is socketed. I almost never use sockets for anything, but since the charge pump on this one *can* die, i figured it's best to have it socketed. After swapping the chip and polarity protection diode as a precaution, the box rocks again.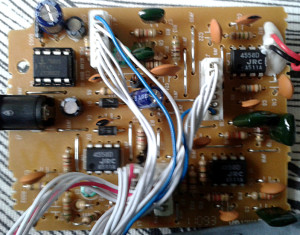 To get going on this post, the design of the BB9 is solid Maxon quality with modern board design and manufacturing method. If you checked the schematic linked above, you'll see a power supply section that creates a bipolar +9/-9 volt swing with LT1044 DC-DC converter. This means that the pedal runs actually on 18 volts, using ground's zero volts as a reference voltage.  For me and my fix, i only had ICL7660S chips at hand, but these are pin-to-pin equivalent and they can be used as a drop-in replacement for each other.
On the topology, is one half of JRC4558 acting as input buffer. Then we have dual gang potentiometer setting the level of signal passed to gain recovery and the actual gain of the clipping amp that is paired with a static gyrator that sets the boosted frequencies. After these we have active tone control to have nice control over the treble content. This leads to level control and output. Not too conventional way to create overdriven boost.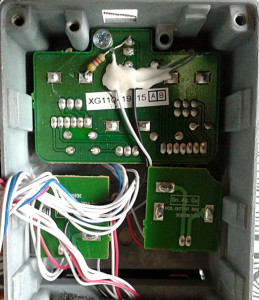 What comes to box design, it surely ain't as aesthetic as the 30 year older 9-serie units. It isn't ugly though. Sort of reminds me a bit of build methods we can find in Marshall small metal series pedals. Pedal follows the original series on the enclosure and carbon film resistors, but not much else. Here we have four separate boards to ease the manual labor. Neat and beautiful on the outside, but pretty dull on the inside – except for the circuit design.
How does it sound?
So good that no words are enough to match it. BB9 offers mild overdrive tones with really, really good sounding frequency response. It is not a distortion nor a classic overdrive in sense of tubescreamers or others, but something that brings your tube amp alive in a manner that can only be matched by few others. Also, it's not a clean booster. It is a pedal that will give out better, no matter how subjective that term is, overall tone. Little bit of grit and boost combined. Even the voltage swing has a strong emotion-like feeling of great amount of available headroom. This is definitely one of the greatest sounding Ibanez branded boxes. Ever.