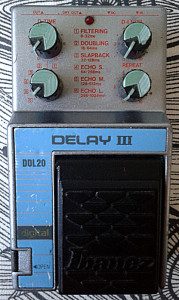 What is it?
Ibanez DDL20 Delay III from Power series. Made in japan around mid 80's.
I should count the Ibanez delays. Yup. At least 18 different delay units are listed at the Effectsdatabase. Sure, this includes all the units from different series since 70's, but that's still a lot of delays. The features on this particular one are great. From slight 8ms tracking effects, all the way to 1024 milliseconds of delay. And every possible delay time in between. The six time ranges are selected on a switch, otherwise the controls are your standard Mix = Delay Level, Time = Delay Time and Feedback = Repeat. Once the bottom plate is removed, there are a ton of neat little solder joints for through hole components and a Maxon branded digital chip.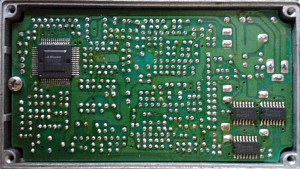 Bottom of the board looks like green leather jacket on a punk. May the joints represent studs. And once we flip the board around, there are 6 SIP opamps, three more Mitsubishi bipolar dual opamps in DIP packages and a regulator. That's a lot of stuff squeezed into such a little board. Stamp on the board shows that this unit shares the board with DML Digital Modulation Delay. As you can see from the first shot taken from the bottom, there are a few empty pads.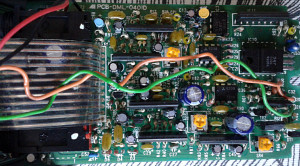 The board design pleases the eye. But i do apologize for not going deeper in to the design itself. Reason being that i don't understand it well enough myself to say anything insightful about it. Well built and designed. These unit will endure use.
How does it sound?
Not special, but very, very good. Like most Ibanez delay units, this one offers solid sounds. Which is also a weakness for a few Ibanez delays. Where almost every single Ibanez unit has its own character and a face, so to speak, the delays from Power and Master series are sort of Ibanez' line on Bosses. There's nothing wrong with them, but some of them do tend to sound rather generic. This is one of those. Makes me wonder why did Ibanez release three different, un-modulated digital delays for Power series? I have no idea. The feature differences are slight and the overall sounds from all three are close to each other. All of them are action packed and sound good. With similar setting on each, i doubt many would survive a "Pepsi Challenge" if i played with all three to you with your eyes blindfolded.
None of that makes this a bad sounding unit. If you see one for cheap, grab it. These do not move around too much these days.