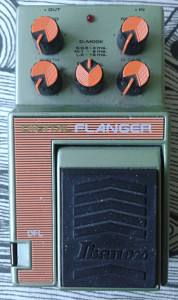 What is it?
Ibanez DFL Digital Flanger from Master Series. Made in japan in mid 80's. Missing the type plate sticker, but otherwise in very good condition.
Now, for real, get ready for running in the guts of the iron worm. The basis for all the metal worm psychedelic action is MC4101F. There's also a schematic available for download at Schematics Unlimited. Must be one of the most complex pedal designs i've seen so far. Just look at the solder joints. The board is so full that it's simply amazing.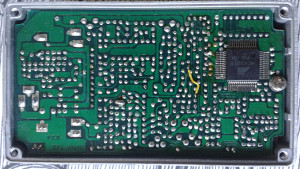 The amount of usable controls are  also notable. There's your standard Speed and Width. And Delay Time and Regeneration. Plus a three position switch for delay time range from 0.5-4ms to 1-8ms and finally to 2-16ms. Those ranges offer pretty much every usable delay times that are needed for flange effect. There are scans of user's manual up on Tone Home.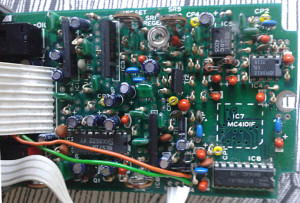 With wide range of  controls, it is very usable and well made flanger. Even i don't consider myself as a huge flanger fan or big time user, this unit still impresses me. And for the complexity.. There's really not much for me to go on about with my puny understanding that is all based on simple analog circuits.
There are rumours around the internet that these units are ultimately rare and the number produced is very low. I don't believe either of those claims are true as at the time of writing there are five different units for sale on ebay.
How does it sound?
In the guts of a iron worm. Metallic and cold. Simply beautiful sound. And over the pot at the same time. If you're after a soft sounding airplane sweeper, you should pass this one completely. It offers harsh, deep flange that'll melt your brains. Just beautiful.