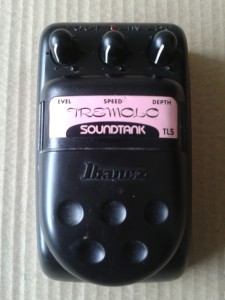 What is it?
Ibanez TL5  Tremolo from soundtank series in plastic enclosure. Made in taiwan around 1995.
There are just a few highly peculiar effects in whole Ibanez catalog fom the seventies to today. This is one of them. Only tremolo Ibanez ever produced. And to be honest, the design isn't bad at all. In all the simplicity, there's TL022 opamp that acts as a LFO – which then controls the amplitude of BA6110 SIP voltage controlled amplifier. Dirk has drawn a beautiful schematic and posted it on his site.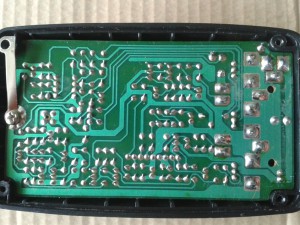 The idea of using a VCA for amplitube modulation isn't as popular method as i thought. The optical Vactrol and FET methods are present in more common designs. So this isn't only special for Ibanez, but for the whole subgenre of tremolos. I've seen a few designs even utilizing a OTA for a tremolo effect, but for me, this was the first design with a VCA. Also the one transistor that's controlled by LFO and pulsing the status LED is very nicely designed.
Traces look sort of like modern japanese drawing of a tree and the solder joints are neat. Components are also placed in very neatly. It's getting harder to find anything really wrong with this unit.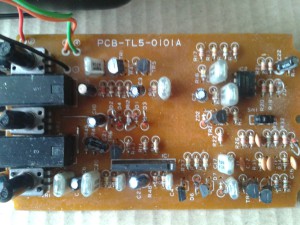 Component side is one of the roomier ones in whole soundtank series. The way all the 1/8W resistors are laid in straight sets is also very eye pleasing. The biggest culprit once again is the switch. Replacing it isn't that big of a task and is recommended as most of the original switches in this series will die eventually. All in all, this one is a must have. Ibanez (or basically Maxon) design that is at the same time quite original and versatile.
Springs up a question. Why Ibanez didn't ever made another tremolo for any other series? In my opinion this doesn't matter as now we have here a piece of Ibanez effect pedal history that will be a highly valued collectors item for its sound and design. Some people might argue that the value has already climbed to where it should be. I'd have to agree on that. If you are lucky, you can still find one for cheap.
How does it sound?
Like a world class tremolo. Soft with reasonably wide range of speeds and depths. The level control lets you boost the signal slightly to avoid all psychoaural volume drop issues. Really nice tremolo. One of the great beasts in a plastic box. Highly recommended pedal.