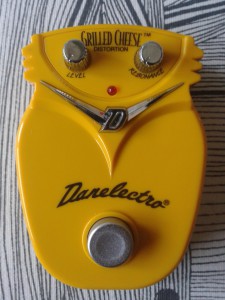 What is it?
Danelectro DJ-10 Grilled Cheese distorion.
Had no information on the design whatsoever when i got this unit. Should probably have done some reading before paying 20€ for it. As distortions go, there is one sub-genre that i find no joy in playing with. This one sinks to that genre. Fixed wah distorion. As the ones i've played with, the Ibanez CD5 Cyberdrive is the least sucky in the bunch. And that too sucks quite a bit. That may be suitable for some special lead sounds usually employed by men in tights. So i may be a bit biased when judging this pedal.
Couldn't find a schematic and to be honest, this unit does not interest me enough to even dig deeper. The comments on the internet say that there are 3 dual opamps and a inductor that make up the circuit. Bypass seems to be standard of the mini series.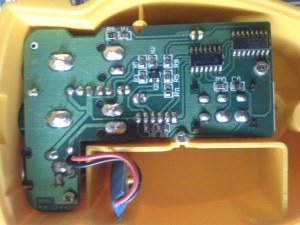 One of the rare cases of complete meh. Which means i have no interest in seeing how or why this one does what it does.
How does it sound?
Like all fixed wah designs with mid scooped distortion, not completely unlike DS-1 or alike. Personally i wonder who would need or want a sound like this. It's not my place to judge, so if you find fixed wah distortions useful, go ahead. This one will remain in mint condition in my collection.