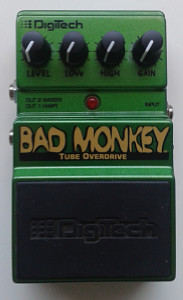 What is it?
Digitech DBM Bad Monkey Tube Overdrive from Distortion series. Made in china around 2008.
Bought mine for a very low price as an broken unit through ebay. As usual, my first suspicion was that the unit had gotten a jolt from wrong polarity supply. This wasn't the case. Seller stated that he "don't know what's wrong". But just seeing the unit gave an explanation why this pedal wasn't working. It had been either thrown around in anger or kicked with intention to break it. The gain and level knobs were broken from getting a hit. I opened the box up and probed to confirm. Yes. Both of those pots had internal damage. In fact, the sweepers were simply ripped off from the carbon strips inside the pots. Took me a while to track down the exact pots and new original spare part knobs. Those did not come cheap, but overall, i still got away with about 25% less money spent that i would have used on a new unit at cheapest.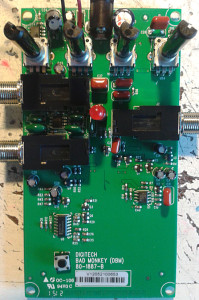 The board apparently uses the same base layout as all the other Distortion series effects (Screaming Blues, Death Metal, Grunge and Hot Head). Mix of Panasonic metallized polyester caps and standard small surface mount components. The design and almost everything about these boxes are just too modern for my taste. So these are not my favourite things to collect, but once i happen to find one for a reasonable price or as broken challenge – i can't seem to help myself.
How does it sound?
Not too great. Very deep mid honk accompanied by similar tone controls found on DOD Grunge. I would say it sounds very much like a Tubescreamer alternative. Can't say if it is any better than a TS. For my style of music and playing it is more or less useless. The EQ section offers more versatility than most other TS alternatives/clones,but let's face it. The tone controls on this particular design have not reached the level of "any good". If you're looking for a TS with more bass, this might be your choice. Due to the fact that it sounds exactly like TS with more bass and the price of a new unit is somewhat unbeatable when compared to quality. Not great. At all. But for the price.. Very good.