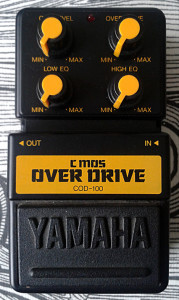 What is it?
Yamaha COD-100 C MOS Overdrive from Yamaha 100-series. Made in japan in mid to late 80's.
Happened to score one of these in near mint condition with an original retail box from a local guitar builder guru J. Lindén. Since i'm still fond of those coin-op design Sound Device series pedals, this one wasn't too high on my want list. But. Price was correct and due to like-new shape with nearly 30 years of age.. How could i resist? Surprisingly little information available on the unit. Your best bet would to check out the specs from original marketing material at Effectsdatabase.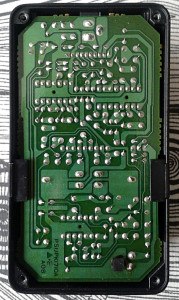 Before opening the unit up, i had a huch of this being adaptation of either EHX Hot Tubes (which has a history of its own) or Ibanez MT10 Mostortion. Turns out its neither and both. I suspect that the lower IC is there for electronic  bypass switching and the part above the jacks is the effect circuit itself. There is unbuffered 4069 CMOS chip in there. I'm currently just guessing what's going on with the circuit, but this pedal may be one of those that deserve a deeper look at the design. The board design itself is eye pleasing, but not special. Nice. Not shocking, but nice.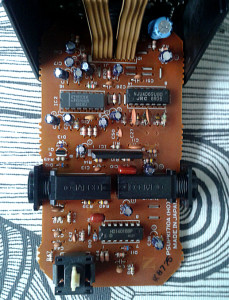 I'm quite puzzled how Yamaha designs have slipped through the cracks of interesting designs. Most of the effects that people find interesting from the era have factory schematics floating around. But not for Yamaha. Even the traced schematics for these are scarce. For this particular unit, i sure hope there will be interest in the future. Expect an update on this post…
How does it sound?
As advertised, the MOSFET sound is in there. Harsh, metallic overdrive/distortion with plenty of output level. Well working EQ section with separate controls for highs and lows. Pretty standard all the way, except for that MOS sound. Since there are only few of similar sounding designs, i'm forced to wonder if none of them sold well? And if so, why? For my ears these all (this, WH Red Llama, Hot Tubes and Ibanez MT10) sound very good, gritty, agressive and powerful. And we do have ZVex Box Of Rock and Distortron which both have similar characteristics in their sounds.. I'm under impression that those sell well.
Well. Doesn't matter. To me, this sounds like a lost gem and it is a definite keeper.