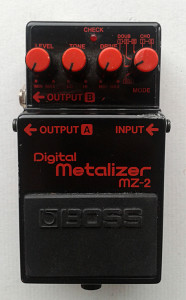 What is it?
Boss MZ-2 Digital Metalizer from Boss Compact series. Made in japan, july 1988.
Now, since i've lately been looking at these late 80's analog/digital hybrids, this may be a decent unit to continue with. We are looking at Boss' take on the distortion plus delay/chorus effects that were widely available back in the day. DOD had it's own as "Hard Rock Distortion" and Ibanez shuffled the deck with its Session Man pedals. I'm quite sure there were others trying to take the markets too. There sure was i time and demand for this kind of combination back then. While the competition had the delay and chorus lines done mostly by analog methods, Boss aimed for the moon and made it digital, while leaving the distortion part analog.
Once the bottom plate is removed, my reaction was to freeze for a few seconds. Wow. Part of the traces look like good old japanese hand drawn beauty, but the digital signal processor's small traces try to keep up with the old school design. Those thin, round traces at the right hand side of the DSP look very pleasing.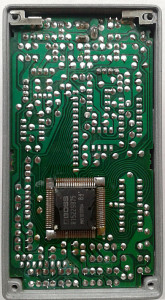 As with other digital Boss pedals of the era, the mixture of through hole components and SMD parts is in place. In addition to having two separate, stacked boards to accommodate everything. While these combo effects do not interest me all that much, i must say i find this unit very appealing.
What comes to controls, we have our basic three knob layout for the distortion part, including gain/distortion, tone and volume. The digital section has only presets for being off, having couple of different choruses and delays on or off at the same time. Lack of more controls to the digital part feels kind of boring, but the presets are actually quite good. Sadly, i couldn't find a schematic of the analog board to confirm how the distortion part is made up. I think there may be similarities with other Boss distortions, but there must be something different in there too.
How does it sound?
Very much usable distortion. Kind of like DS-2, but with certain amount of personality thrown in. For the distortion side, this may very well be one rare boss effects with a real personality. They could have offered the distortion part as a separate pedal, but since the modulation/delay can be turned off, it doesn't matter all that much. For the delay and chorus modes.. Well. If you want the sound of a late 80's hair metal lead solo for your tapping pleasures, this is the pedal that you really need. It is fun to play around with this. Sure enough, it kicks the living daylights out of the competition.
I'm sort of glad that this type of combination isn't "in" here in the mid-2010s. This is due to change once someone rediscovers the MZ-2 and manages to make a hit with it…