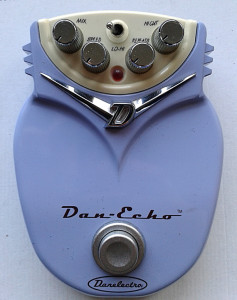 What is it?
Danelectro DE-1 Dan-Echo from Danelectro original series. Made in china, late 90's.
I had one of these back in 2000, but sold it at some point. Once i had a chance to get one back for reasonable amount of cash, i grabbed it. These are in no way rare or scarce and anyone should be able to get one if one feels like getting it. The design has remained the same since 1996, but i believe these have been manufactured for a long time. I've not heard anything new from Dano since the Cool Cat series. According to Wikipedia, the Evets corporation,  which revived the brand in the 90's, is currently focusing in limited edition guitars. I'm thinking the well selling units are still in production, while R&D has been dropped.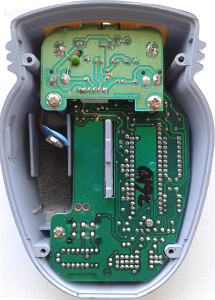 As with all the other units with this type of enclosure, there are two circuit boards. The bigger one holding the PT2395-based delay circuitry, switching and controls, while the smaller one has the in/out jacks and power connections. Switching is our standard CMOS electronic switching found in almost every Danelectro pedal (except for Cool Cat series, which has mechanical true bypass in place. But for others..)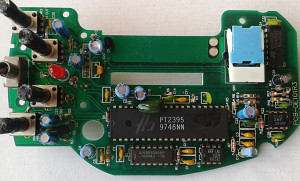 The designs seems to be somewhat close to the application example found in PT2395 datasheet. Sure enough, the chip will not function in any other manner and the board size does give some limits to what the unit can have inside. Solid construction with slight flux residue. While construction is solid, it is still looking a lot like an average work found in mini effects series. Done fast and cheap.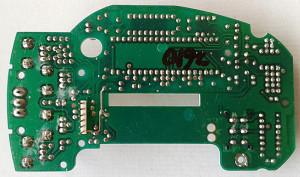 One thing that surprised me was the power. As with just about every pedal with  digital chip in them, we have the supplied 9V for the signal path and a regulated drop to 5V for the digital chip. Not in here. The 9V doesn't connect to anywhere else but to a regulator input, marked as C201 in the jack board. The 9V does not get to the main board at all. Just the regulated 5V, which is then used for operating the switch, buffers and mixing – in addition to supplying the power for PT2395. JRC4558 used in mixing does work fine with 5V, but all this still surprised me a bit.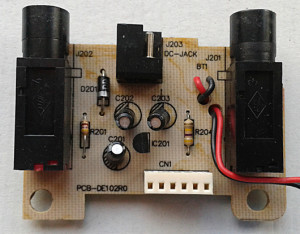 What comes to controls, this puppy has quite versatile options. Maximum delay time is somewhere around 700ms and the high cut control can dial the classic tape-style sounds. Delay time mode is set with a toggle switch, like the datasheet suggested. The delay time control is named "speed", which suggest a modeling of tape echo units. The repeats control is tuned to act like pristine effects. No noisy, endless feedbacks. Just decent guitar echo. In general, i'd call this feature rich standard delay with just a few minor caveats.
How does it sound?
Overall – good, if not great. The high cut, mentioned above, makes a huge difference between Boss DD-3-like sharp, metallic digital delay and soft vintage-like tones. But for me, i find it rather useful to have both worlds in a single box. The controls are good and while the digital chip offers low noise operation for the delay itself, the 5V for the opamps tend to distort the signal pretty badly when the unit is used with high output pickups. For vintage and moderate output pups there is nothing wrong with the tone. Solid sounds and good controls, the best feel is present when used for vintage delay sounds.. Good unit, and when we take the current street prices of used units into account, we really can't go wrong with this pedal. Just keep in mind that the headroom is what you can get with 5V and the operation sucks with modern pickups. There is a good reason for the level of popularity.