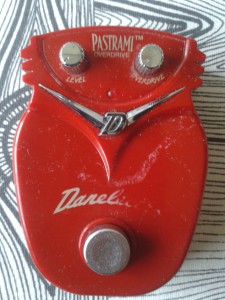 What is it?
Danelectro DJ-1 Pastrami Mini Overdrive. First in Dano's mini boxes. Got this from a friend. Thanks Mr. Järvi!
Not bad at all. Like many in this series, the soldering leaves me wanting more quality, but otherwise there's not that much bad to say about this. The schematic can be found on FSB. There's nothing new or super special in there, just succesful mash of basic gain and recovery stages with LED clipping.
Designwise this is definitely a great overdrive with personal character. With this simple design, i'm really not interested if it is supposed to be a copy of some popular design. It doesn't sound like any of the big names, so i'd leave it at that.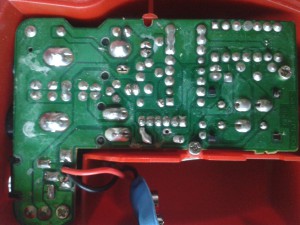 I've built a clone with my own mods to this as it bothered me that the level control mixes the makeup/recovery gain stage input with gorund. This method doesn't leave enough room for low gain and volume maxed. Also, bigger resistor to set lowest possible gain higher than stock will be a good idea. My mods have the original level control transformed into a SWTC2 and the new level control taken to more conventional place – the output. LED clipping is at home on this design.
How does it sound?
Think of your weekend morning rice crispies. Crunchy medium gain with moderate output. Usable and recommended crunch. The LEDs give out their trademark sound for clipping on this one. After playing with one of these intensively, one can spot the sound of LEDs being used as clippers on other designs too.  Easily the best OD/Dist unit in this series.