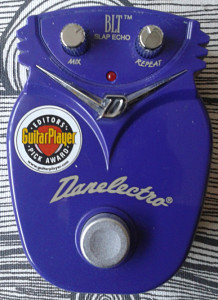 What is it?
Danelectro DJ-3 BLT Slap Echo from mini series, made in china.
Most of the mini series effects are good and usable. This one is no exception. One can hear what the circuit is all about by just listening to it. It's PT2399 delay with fixed delay time. Did this surprise you? Not me. PT2399 is widely used and trained ear can spot one easily. It has analog quality to its repeats, while remaining nearly free of unwanted noise. The reason for PT2399 being so popular chip for delays and echos is probably the simple usage. It requires way less components than any analog or any modern digital counterpart and the datasheet has an example circuit in it. That one can be slightly tweaked, and voilá, completely new delay circuit has arrived to take over the market from another PT2399 design. The example, of course, needs an mixer amp to accompany it, but otherwise.. That's the circuit found in many, many modern delay pedals.
There are several reports on how to modify your BLT for full featured delay/echo. The one posted at FSB by Soulsonic will guide you through the process if you feel like doing it to your pedal. I won't be modding mine as i seem to have a few delays that can do exactly what this would do once modded.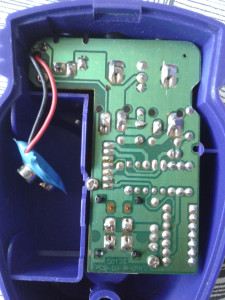 This unit has nothing too special going for it. Standard Dano electronic switching, modern traces and the main board (the one with controls on it) is pretty tight fit with all the surface mount components. By itself, it is nice cheap echo/delay with fixed delay time. I'm getting a feeling that many of the Dano designs are just your standard effects with one or more controls dropped. It doesn't make them bad in any way. It just feels like the designer has made some of the choices for us.
How does it sound?
Good. Usable slapback echo with mix and feedback/repeat amount controls. It has the PT2399 chip's signature sound, so you really can't go wrong with this pedal. It's fun and it can be modded to full echo/delay with relative ease.