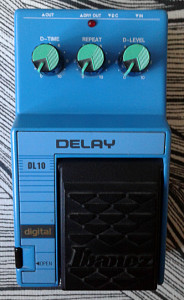 What is it?
Ibanez DL10 Digital Delay from Power series. Made in japan between 1986-1989.
The Ibanez delays are usually highly praised and for a reason. Solid construction and nice design. When i think of it, many other types have design flaws. This of course isn't limited to just Ibanez. Still. usable delays are more common than, for example, usable distortions. The design here seems to be pretty much the same as found on DL5, or, we could once again argue that DL5 is just a remake of this unit. Opening the standard 10-serie box shows a couple of components mounted on the solder side of the board. This always makes me a little suspicious. This time, i think the components are there by the manufacturing process. I reached this conclusion by having obtained a second DL10 in defunct state. Or it would be highly unlikely that two separate units (one bought from canada and the other from a local guitarist) have the exactly same mod performed on them.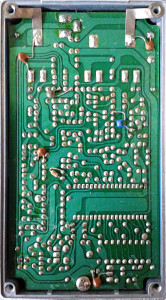 Hand drawn acid trip traces always make me smile. This time there's another vow-factor due to crowded digital board and the hand drawn traces. Heart of the delay circuitry is Mitsubishi M50195P, which is one of the standard echo family chips Ibanez has used on most of their delay circuits. Including Master series Flanger and a lot of others.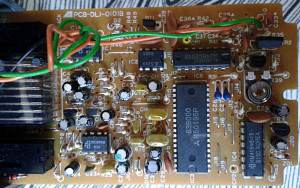 Good delay pedal needs to be  simple to use and still offer more controls than just one tone. The Power series delays are all pretty good items. This one is more of a simple standard, while the others offer more and more special features. Let's face it. Maxon designers have had their spoons flying pretty high in the 80's. After all, there are seven different delay designs in a series which was manufactured from 1986 to 1989.
How does it sound?
Like a very nice delay with reasonably good control range. This stretches from tight slap back to neverending feedback with nice long delay time. This unit is common and lots of people are still using it for a good reason. Usable. Not much more to add.