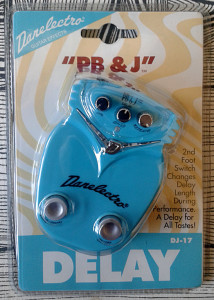 What is it?
Danelectro DJ-17 PB & J (peanut butter & jelly) Delay from mini series. Made in china around early 00's.
I thought i was getting a slightly used unit through ebay listing. Apparently not. It is in original blister packaking with only one of the corners slightly torn. Packaking indicates that this unit the early Mini series pedal. Later ones all came in cardboard boxes. As there is a little collector in me, you can take a guess if i'm tearing this one open? Hell no. So. This time i won't be able to offer any analysis on the circuit. I may need to get another unit. One that has been already opened to do that. So this is probably one of the shortest pedal posts i'm ever going to publish.
If i ever come across a used one, i might update theis post. But for now. Just look at the ~12 year old thing in it's original packaging. Beautiful, isn't it?
How does it sound?
I have no idea. It has two stomp switches to change the delay time on the go, but as it is still mint in unopened blister pack, i'm obviously not able to try it out.