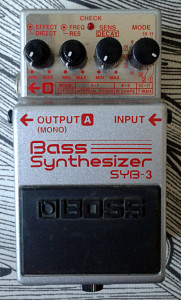 What is it?
Boss SYB-3 Bass Synthesizer. Made in taiwan, september 1999.
This is one of the pedals that have stayed with me for a long time. Got it somewhere around 2002 and i've used it mostly with a guitar with occasional bass hook when recording. Due to its very complex digital design, i won't be able to break the design down. So i'm forced to leave you with an overview of the features and aesthetics. Opening the bottom plate reveals a two sided PCB that is pretty crammed. On the board design, there's not much to mention. It's your standard SMD-board with focus on functionality, rather than aesthetics. Like most Boss boards. I'd say it's dull.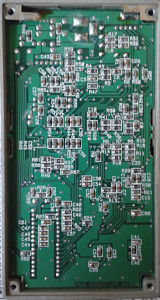 Bottom layer is for caps and resistors. The upper sider has all the semiconductors. As you can see, the number is quite high. The reason for the complexity? Well. It has eleven modes, ranging from "internal", made up digital synth-like sweeps to standard, clean autowah sweeps. As the controls go, there are individual level settings for clean and synth signals, which gives you the option of blending the signals the way you want – all wet being rather wild. Next up is a very synth like filter with frequency and resonance controls. If there was one thing i'd like to see added to this one, it would be a expression pedal input for either of these controls. After these, there is sensitivity and decay controls that control how the trigger performs.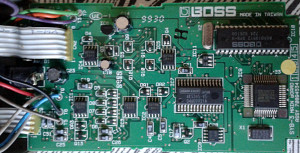 Last control is 11 position switch that sets the effect type. Types are "internal" from settings 1-7. These are the programmed synt-like sweepers that are more or less unique to the pedal design. Settings 8-9 are "W-shape" modes, which are closer to standard autowah sounds than the internals, but still something rather odd. Last two settings are for "T-Wah". So its safe to assume the last modes are digital recreations of ye oldee boss T-Wah autowah/envelope filter. Haven't been able to play with original T-Wah, but something tells me these modes are a bit wilder or tighter than the ones found on the old analog pedal.
Either way. There is a ton of versatility. I'd label this as one of the top ten Compact serie pedals. When Boss engineers take a design over the top, the results are still usable.
How does it sound?
Wicked. Extreme envelope filter on steroids. Wild filter sweeps with great, completely unnatural synth-style modes. Of course, there are milder autowah settings available, but it's the wild ones that will roll your socks. The blend controls give the possibility of nice, subtle effects too. Very versatile and fun effect. Maybe the tones offered aren't the greatest thing for your base sound, but for those hidden hooks and shock effects.. This is the right stuff.