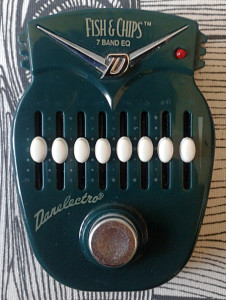 What is it?
Danelectro DJ-14 Fish & Chips 7-band graphic EQ from Mini-series. Made in china around mid 00's.
The first thing that comes to mind is the Boss GE-7. Could this be one of those simple redesigns that feel and work like the design that it mimics? Sure does feel and work like it. Yes. This is a very close approximation of your big brand 7-band EQ pedals. Sure enough. Anyone could compose a graphic EQ with little engineering skills through a careful studying. So even if the frequencies are close to any other brand's design, i would still not call this a complete ripoff.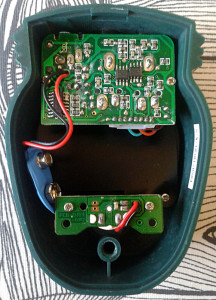 All SMD boards with unusual battery-in-the-middle box layout. There are other with this arrangement too, but the sideways battery slot is more common for the series.
From playing around with the effects for the time i have, i've noticed that biggest use for EQ pedals is when i want to cut out frequencies from the instrument (may that be what ever). For some reason, i've never considered using a graphic EQ as a booster. Every single one i have (or had) are more than capable of boosting the desired frequency or frequencies in clean and neat way. This could be a road that needs some exploring. Although there are number of booster designs that are meant for.. Boosting…
How does it sound?
Clear and clean. Cuts and boosts when and where needed. Usability for this unit is very high. Pedal board-wise, the footprint is small and the standard Dano electronic bypass isn't that horrible either. Good, clean sounding EQ with good range for the controls. This is one of those Dano Minis that should not be overlooked.