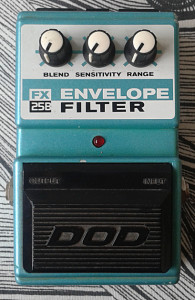 What is it?
DOD FX25B Envelope Filter in "final" US DOD enclosure. Made is USA in the late 90's.
Grabbed this one off from eBay as the price was correct. I was totally expecting a V-serial unit for the price and once this thing arrived and i opened the box – no type plate sticker. Damn. But there wasn't a "made in china" stamp under the DOD logo on the rubber mat either. I still wasn't convinced. So i headed over to America's Pedal site and checked the info for the FX25B. What do you know. All the components are exactly as depicted in the AP's article. Check here to compare. But then again.. From the article, i get the impression that the FX25B was never issued as a chinese VFX unit. And furthermore, there are apparently only three Final Series designs that never went on to VFX, namely FX91, FX84 and FX25B. Funny how you learn something new every day.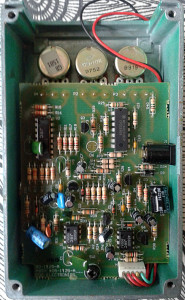 The design is evolved FX25 with added blend control. This control was probably added so the effect would work better on bass. On the board design point of view it is the usual, dull modern DOD design with nothing special in there. There is a schematic up at FIS. Should be worth noting that the filter is created with LM13600 OTA. Trigger driver is JRC4560. TL072 takes care of the mixing and blend control. I can't recall any other OTA-based envelope filter right of the bat. I'm sure there are some though.
Well. I'd like deconstruct the working idea behind all envelope filters. First of all, we'll need to split the incoming signal in two. First splitted signal needs to be sent to filter and the other to trigger.  Trigger needs to have some sort of threshold so it knows when to trigger the sweep. When the incoming signal for the trigger is strong enough, it will pass voltage to LM13600 control pin in a sweeping manner. From that signal the OTA knows to modulate the frequencies of the signal passing the filter. Filters come in many forms, shapes and sizesall of them have components to determine frequency and gain of that frequency. OTA-based filters are usually used due to their capability of offering tight frequency ranges with reasonable amount of components around it. All methods can do the same thing, but different methods result in different tones while the working idea remains.
How does it sound?
Nice. Not squishy or mushy. Straight up clean filter sweeps all the way. As basic analog envelope filters come, this takes its place in top 5 with ease. The frequency ranges this circuit can sweep are good for most instruments. Haven't tried this with a synth, so i can't be sure if it will stay unchoked when driven with line level signals, but it is very well working and good sounding envelope filter for guitar and bass. Low noise floor and even lower noise on the sweep make this very attractive effect. Recommended as top shelf quality sounding effect.