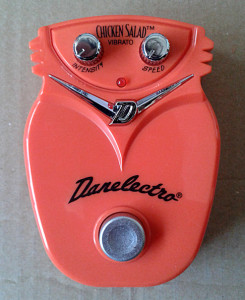 What is it?
Danelectro DJ-15 Chicken Salad Vibrato from Mini series in plastic housing. Made in china around mid 00's.
Where tuners and couple others in this mini series are just bad, there are a number of great units. This one is the greatest deal. Cheap vibrato effects are scarce, so when Dano released their miniature take on the classic Uni-Vibe with ridiculous price tag, it was bound to become instant classic and a hit. I do not have any idea how many of these have been sold, but i believe the number is big. I managed to grab mine as a new unit from one german retailer. It didn't come too cheap, but for really good effect, the price can't be an issue. These seem to sell for a reasonable prices on auction sites too, but usually there are many people bidding on them.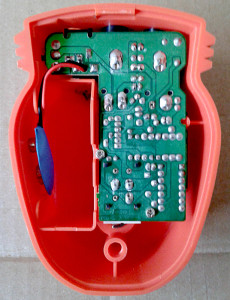 If you do a web search for this, you'll find a number of discussions on how to rehouse and true bypass the unit. This may be a good candidate for these changes, as will the Tuna Melt Tremolo. Boards and work quality are similar to others in the series, meaning that there isn't too much to write home about. I did spot a schematic floating around the web.  I'm not sure if the changes noted in the schematic are for the factory units, but the drawing itself. If the lamp type has been changed during the production, this would make my unit the post-2004 unit as the black blob in the main board seems to be a LED.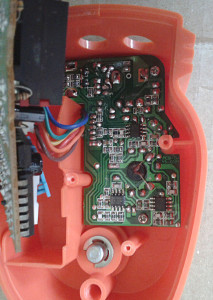 Looking at the schematic, there are four LDR stages that create the modulation. LFO part is made up in manner that's very effective. But hey, that LFO looks rather familiar to me. Yup. It's the same configuration we'll find in original Uni-Vibe. There are some values that aren't verbatim, but the function is more or less the same. Even the modulation stages correlate between these two designs, even though the Uni-Vibe uses transistors for those stages and Chicken Salad does the same thing with dual opamps.
So. As usual with Dano designs, the similarities are there, while the circuit isn't exactly straight up clone. To sum it up, the Chicken Salad is your awesome chance to have Uni-Vibe sounds for a very reasonable price. It is all plastic and not too well made with its standard Dano electronic switching. But if these things do not scare you, it's a very nice score.
How does it sound?
Wobbly and warm with slight breakup on some depth settings. Not squeeky clean, but that's part of the appeal on Uni-Vibe sound. So yes, it sounds good. And it's a vibe as any vibe, without any obvious flaws. Range of he controls is sufficient and goes from mild to wild. Can't say much more. This sounds like very expensive and great effect in a small plastic housing. And it comes with a great price. How can you not love it?