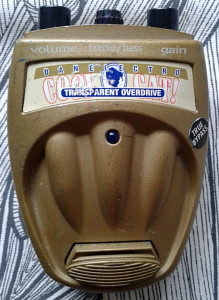 What is it?
Danelectro CTO-1 Transparent overdrive from Cool Cat series. Made in china, late 00's.
It seems that CO-1 and CTO-1 from the series are becoming rare. There was a time one could snatch one of either one for peanuts through auction sites. I believe these two were manufactured in very limited numbers and follwed by their successors, CO-2 and CTO-2 respectively. Quick replacements may have been due to the ciruits being really close, if not exact clones of other manufacturers designs. So without further due, let's check out Danelectro's Timmy.
Once the box is opened, the standard Dano universal jack and switch board stare at you. Nothing special there.
Judging by the size of the circuit on the board, i see nothing special in why modern chinese rip offers can squeeze similar circuit in miniature box. One dual opamp, four clipping diodes and a few other parts. Mostly SMD, but as with many CC series boxes, there are a few metallized polyester caps in the mix. If you are interested in a schematic, i suggest you do an image search for Paul Cochrane Timmy and omit the switch for the second diode pair.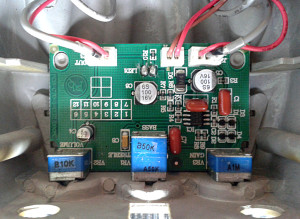 I got mine through an auction site with reasonable price as it was defected. Missing knobs and DC jack was torn off the board. Quick fix for the DC was just to resolder the jack. I tried to source original knobs through my country's importer, but the answer was no. Apparently Dano isn't in the business of selling spare parts for any of their pedals. With little a ingenuity i tweaked couple of the knobs i had to get the controls to look relatively close to the original ones.
Onc e again, the biggest downside to this effect is the concentric pot for Bass/Treble. It's not like you need to tweak those controls all the time, but turning one usually tends to turn the other at the same time.
How does it sound?
Like Timmy. Usable and neat sounding overdrive. Shines on lower gain settings when used to push an amp. Treble and Bass controls have usable range, although the minumum settings are not that usable. There is some clear mid hump present, but it keeps the guitar's tone pretty well in tact. Nice thing to have.