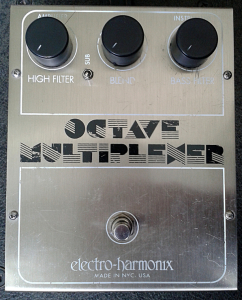 What is it?
Electro-Harmonix Octave Multiplexer Reissue. Made in USA around 00's.
For starters, EHX Octave Multiplexer was originally an apparent move to compete with all the other octave divider boxes that started to emerge in late 70's and early 80's. I have no idea when the very first down octave effect was produced and by who. Still, the basic idea of driving a flip-flop circuit over the top produces the analog octave down effect we know and love today. Sure, the technological advances have bumped us to the point where small footprint pedals can produce polyphonic octave down effects. But there's still nothing like trying to get these flip-flop based octave dividers to track your signal properly. As a caveat, this type of circuitry can easily miss the note you wanted to add the effect to. When that happens, the tone produced is just wild and completely senseless. This behavior is something that can't be digitally modeled. And it is a feature, love it or not. So is a modern polyphonic down octave better than its analog counterpart with its own flaws? I'd say no. Musicians have created a tons of great sounding guitar tones for tons of great albums with effects like these. To love the mistracking means that you have to be a person with adventurous mind.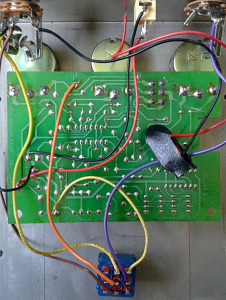 The unit we're looking at here is the 00's reissue of the original 80's Octave Multiplexer. The circuit has similarities to its predecessor, but there are modernized parts to it. The sub switch is not present on the original and this is the biggest difference between a reissue and the vintage unit. This switch takes the low octave in and out of the processed signal. If taken out, the "High Filter" control lets one use this as a up octave. Sort of.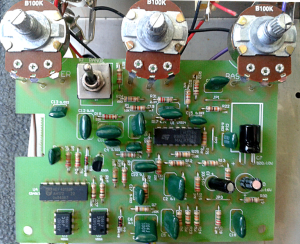 The low octaves are created with a 4013 16-pin flip flop circuit. As seen in most of the effects in this genre. EHX couldn't have done a better or worse job with their circuit, since it's all about the 4013. The tracking aspect can vary with the rest of the circuit and in my opinion EHX does this remarkably well. Actually the Octave Multiplexer ranks at least as high as Boss OC-2 in my personal favorites list. The way this flip-flop works is that the signal pushed through it has to be huge. But if it's too big, the tracking won't work right. And if the signal is too weak, the octave divider doesn't work. One can, of course push a massive fuzz through the flip-flop like done in MXR Bluebox, but to create all analog, distortionless, well tracking octave down effect isn't as trivial as one might think. Some people prefer to use a compressor in front of this kind of effects to help the tracking. It works to a degree.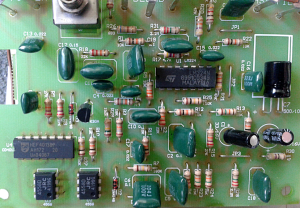 Board design and manufacturing methods look exactly like all the other reissues in EHX catalog. Not a pleasure to look at, but not ugly by any means. Massive sized box will definitely keep a few future fans away. But for that, there is XO-series version with otherwise the same electronic circuit. Just made with baked-in SMD components instead of the real deal.
How does it sound?
Wild and mean with a decent tracking. I think the size and the of the box may have been contributing factor to why Boss OC-2 has always been considered as a classic and EHX Multiplexer hasn't. To my ears the Octave Multiplexer sounds at least as good, but with added craziness in the form up octaves as well. It sure is a beautiful sounding octave down. Every time i need an octave down when recording it's either this or the XO version i take with me. Unless it's a dirty down octave that is needed. Then the choice is DOD Buzz Box. Not much sense in trying to feed clean down octaves with wild distortions. So. For clean down octaves. EHX Octave Multiplexer is the king.