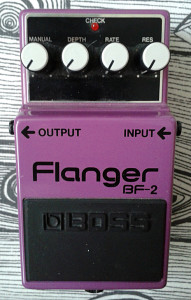 What is it?
Boss BF-2 Flanger. Made in taiwan. No serial number and no enclosure date stamps.
Even the electrolytic capacitors have no date codes. So it's nearly impossible to determine the date accurately. My best guess would be 1993, since dual opamp codes point to that direction. The japanese units apparently have all black knobs and the change to white top knobs happened around the time manufacturing moved to taiwan in late 80's. All the 00's units i've seen have enclosure stamps on the stomp lid insides, but this one doesn't. I'm going to let myself believe the unit is from '93 and stop thinking about it.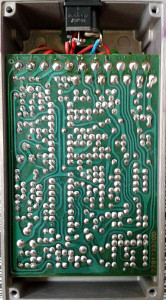 Board design in on par with earlier Boss pedals. This means that every little part of the design is japanese and the manufacturing only is done in taiwan. There are some of that super cool acidy feel on the traces and no sight of machine routing. It's a pretty thing, that's what it is. As a tiny history lesson, the circuit of BF-2 Flanger did take a long time in being a current device. The design was first introduced in 1980 and it discontinued as late as 2001. This and a few other facts are up at Boss Area. Check that out too. The schematic is up at Hobby Hour dot com.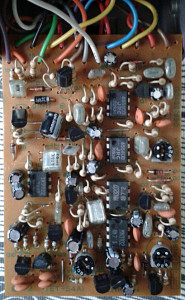 As the electronics go, my unit accepts the notorious Boss ACA power supply only. I'm not sure (and the Boss Area doesn't say), but i think the later units were modified to be used with more standard-like PSA supply. This means that there is a zener diode dropping the unregulated supply voltage to what the effect needs. There will be issues if this unit is powered with modern standard power supply all by itself. Daisy chained with other – then there's no problem. Anyway. The buffering and mixing is handled by two 4558 dual opamps. TL072 in some units (IR9022 in mine) is the LFO and the delay line is done with MN3207, a 1024 stage BBD and a MN3102 clock. So yes. Nothing special about it. Makes a great, solid, and versatile design though.
The controls are Manual (affects the LFO operation), Depth (intensity), Rate (the speed of the LFO) and "Res". "Res" is short for resonance. Or in this case, we get a bit clearer picture of its function if we would just simply call it feedback.
How does it sound?
Very good. This unit is capable of mild chorus and vibrato to near airplane swooshes. It does not do anything special or have a distinct personality in its tone, but it is a very good sounding analog flanger. As a cardinal sin of Boss modulation effects, the rate range could be wider, but even that is better here than it is on Boss chorus effects. A classic.