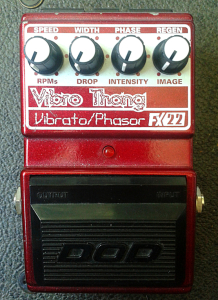 What is it?
DOD FX22 Vibro Thang from FX series. No serial number (blue velcro on botton plate and rubber+sticker missing), but judging by the graphics, this unit is made in USA, around 1997.
Only few of DOD FX series boxes have received as wide recognition and fan base as Vibro Thang. A few more should have reached the status, but it's no surprise why Vibro Thang is nowadays so highly praised. It's a great, solid design that does everything from mild phasing to absolutely crazy, deep vibrato. There is some additional info on America's Pedal, which suggests that the initial sales after the release weren't that hot. I personally recall these units were selling for peanuts in the mid 00's. I got mine around then. The appreciation wasn't there at the time. Since then something has changed. The prices for these units are still very reasonable. Possibly due to high(ish) number of manufactured units.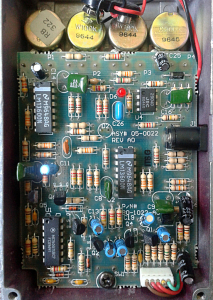 Opening it up shows a board that's on par with all the other US made FX series boxes. Neat design and solid construction. Now, if we take a look at the electronic design itself, we  have two LM13600 dual OTAs, equaling in four phasing stages. JRC chip is the LFO. There's a copy of factory schematic donated to Freestompboxes forum, but you'll need an account for the forum to see it. As a side note, the D6 thing on the America's Pedal page is wrong. This LED is crucial part of the the LFO and it is exactly where it's supposed to be.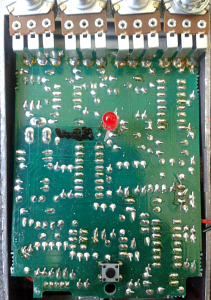 The design isn't that basic or something we've all seen thousand times before. The idea of having OTA stages for phase/vibe isn't all new, but controlling how the LFO affects the phase and vibe is another story. So we basically have controls for phase stage feedback, in this case known as Regen, or Image. RPM, or Speed controls the LFO rate. Control named as Width/Drop is our vibrato depth and control called Phase/Intensity controls the phase depth. Not too obvious, but referring to the schematic it all sort of makes sense. With any given combination of Drop and Intensity, we'll achieve beautiful and different phase/vibe tones. And what's even more important..
How does it sound?
Any given settings sounds just awesome. It  can be wild and it can be mild. But there's very little unusable area on controls. Sounds like a perfect vibrato and a perfect phaser. Or a perfect mix between the two. And since the design with four OTA stages hasn't been done over and over by everyone (before like couple of the other methods of creating a phase and a vibe), the personality in tone of this effect is notable.
Usable. In the biggest meaning of the word. And for me, this pedal is important. For its sound, good controls and, well. Everything.