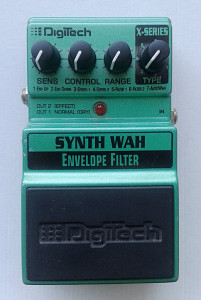 What is it?
Digitech XSW Sythn Wah envelope filter from X-series. Made in china around late 00's
Deeper green on the color than the bass version, the Synth Wah Envelope Filter takes on the battle for autowahs with slight synth features for a guitar. Decent set of features will let you play around for hours. Some of the modes are usable and may even come handy in some situations. Once again, there is nothing close to a schematic available, but once we open the torx screws and check the PCB we notice something that we didn't want to see. Sea of vias and the auto-routed footprint that is nothing more or less than the same board we'll see in the bass version.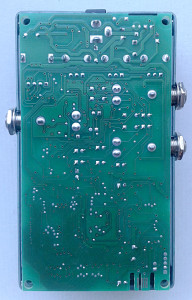 This continues when we flip the board over. Yes. It is exactly the same effect as the XBW Bass Synth Wah. Only things that are different are the print on box and some lines of code inside the ROM. I did know to expect this, but it still made me feel stumped. This makes me think that all the X-series boxes have just two different boards inside them. The first are the ones which have a rotary switch as a fourth pot and the second, there are boards with a standard pot in that position. It is just me, but i'm still an analog electronics enthusiast first and thus, not too thrilled about all digital designs such as these.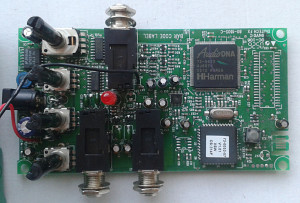 I had a conversation over the social media some time ago. One talented guitarist (who uses Boss GT-100 multi effect, by the way) noted that all the effects are just resistors and capacitors, so it doesn't matter if the design is digital or analog. I just had to correct him. You know, when there is someone wrong on the internet.. No, these two methods are not the same and cannot be compared head to head. Analog designs rely on electronics engineering, while digital designs rely on processing power, code and A/D-D/A signal conversion. Some modern pedals nowadays can easily hold a power of Nintendo64 inside them (some modern multi effects are even more like desktop computers). But the question is like comparing locally hand forged steel gate on your driveway with one that's been moulded in chinese steel ovens. Yes. These both do the same thing. And yes. To the laymen it doesn't matter. But for hand forging enthusiast the different is huge. Then comes the question which is "better". Neither. Or both. Beauty is in the eye of the beholder.
How does it sound?
Not bad. The modes have good and usable wobbles in them. The synth-like sweeps are pretty wild and since there isn't too many guitar envelope filters with similar modes available, this unit is rather desirable. Whether it is the same effect from electronics design point of view as the Bass Synth Wah is irrelevant. Sure it matters to me, but it doesn't affect the sound. My personal opinions rarely affect the sounds… Again, the low price point and big user value will make this effect tempting to many. Not to analog enthusiasts, but for everyone else. Not a bad unit. Good and cheap thing to get. Not a bad investment, if you don't care about the analog/digital aspect.