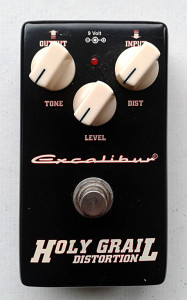 What is it?
Excalibur Holy Grail Distortion. Made in china, late 00's.
Got this one with the Tubescreamer derivative and the fake analog delay from the same "manufacturer". The quotes are there for a reason. Since the brand is just OEM'ng stuff from chinese brand with questionable prestige, i wouldn't exactly call Excalibur a manufacturer. Due to have been inside the two units mentioned above, i knew exactly what to expect. Not by the design, but for the manufacturing methods. The overall feel of these boxes is somewhat sturdy. Not that great, but ok. The highest points come from screws that fasten the board to the enclosure. It's not much, but i can't come up with much more positive to say.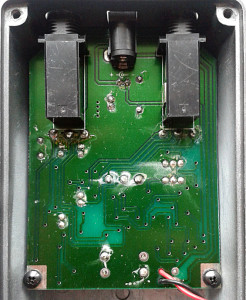 Pretty standard cheap china build quality. Made for extremely cheap and fast. And of course, with cheapest solutions there is. See the jacks in the photo above? Yup. Those are not fastened to the enclosure at all. Sort of reminds me of the method found in Ibanez L- and 10-series, with one exception. Ibanez has bigger part of the jack shafts outside, so the  pressure applied when inserting a plug isn't that hard.  Also, on Ibanezes the board fastening screw is placed so, that the board doesn't come by too much strain when jacks are inserted. Here, the jacks jus float behind the enclosure wall and the board is fastened tight. This means that there are bound to be jack failures in the future. If the pedal sees lots of use.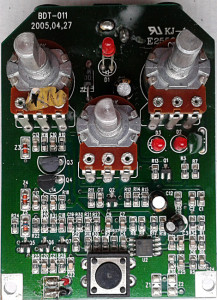 The component side  Continues with the boring china stuff. While the mechanic switch tries to mimic as a basic, sturdy switch with a metal stomp, the actual switch is something quite different. LEDs for clippers and on the more positive side, the design doesn't seem to be 1:1 clone of Boss DS-1. If i was to take a guess, the roots for this design would be closer to the 90's Marshall distortion units. Not sure where the design comes from, and i have very little interest in finding out. Not because this would sound bad, but because everything around the schematic is just utterly bad.
How does it sound?
Not that bad. Capable of delivering decent amount of boost and the controls work well. Overall tone doesn't cut lows too much, so in all, the overall tone is ok. Decent, reasonably clear, but powerful sounding distortion. For a unit that costs 20$/€/£ used, you can't go wrong too badly. It's not a great (nor even that good) distortion unit, but definitely not the worst i've seen. The best of the bunch. But that isn't much said since the rest of the Excalibur pedals are very bad indeed.