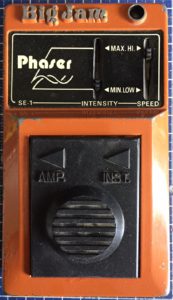 What is it?
Multivox Big Jam SE-1 Phaser. Designed in Hauppauge, New York, made in Japan. Most likely made late 70's.
It was a cold and dark late winter night. Ok, it may have been closer to spring or early summer, but anyway. I was chatting with a friend who had spotted an ebay listing of four defunct pedals from germany. And the price for the lot was rather appealing. Since i was completely out of cash but still wanted more pedals (obviously), i suggested that he bids on the deal and i'll pay around 40%, fix the lot once they arrive and he can choose what he takes first. Not a perfect deal for me since the better pedals of the lot were, well, better – and thus, an obvious choice for the one who gets the first pick. Anyhow. The deal went down, i paid my share, fixed all four and was left with one overdrive pedal (which may be covered here at one point too) and this unit. The faults with this one were quite modest. The switch rubber had fallen off (gladly this wasn't lost!) and the metal plate doing the switching was gone. Battery door and the slide pot knobs were missing as well. So the unit was in no condition to call it collectible or even working. Since the swtiching matrix itself was in working order, i made a new metal switch out of a washer and used heavy duty two-component glue to put the rubber mat back to its place – and what do you know, it works. Due to missing battery door i removed the battery leads as the unit would be next to unusable with a battery anyway. Now the unit was just left with missing battery door and slider knobs. I don't think i'll be able to locate either of those, so this'll be the state this pedal will stay. At least for now. But in a case a duplicate was to appear…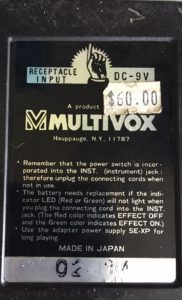 Before anything, the aesthetics usually play a huge role how o perceive pedals. Just look at the hand pointing to the power jack receptable! That is the kind of thing that always brings the smile and good vibes. Just like this wasn't enough, removing the bottom plate shows a circuit board that is true work of beauty. Beautifully assembled board with soldered strips and so on. One negative thing is clear though. The board can be removed from the enclosure by either breaking or unsoldering the in/out jacks. One will suffice, but break or unsolder nevertheless.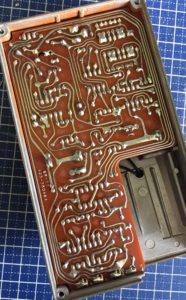 With extremely flat housing, not much higher than a 9V battery itself, this and its peers from the same series are true beuties, but still these manage to remain as weird birds of all pedals. These seem to get their high lisitng/asking price from the age alone. Not so much due to the aesthetics or designs. Which would be way more interesting factors.  For some reason this unit and series simply doesn't feel solid enough to warrant the usual high asking prices. And remember kids. Detachable battery door is always a f*n stupid idea. Avoid those at all cost. Otherwise, Multivox engineers did not go under from where the fence was at its highest. These pedals exhibit heart warming examples of engineering of their day. When the size is taken as a factor, these are very beatiful pedals indeed.
By the sound, controls and fact that i saw the component side of the board (and didn't realize to snap a photo at that time), i'd go as far as to call this a derivative of EHX Small Stone. Which does mean a few things as is..
How does it sound?
Fat, slushy, twirling, psychedelic and not hurt by its relatively sluggish control range consisting of only LFO rate and effect depth. Still the overall tone is not just powerful but sweet as well. I don't have much negative pointers for the unit in any way. The battery door design may be the biggest one, when talking about issues of Multivox Big Jam pedals. Maybe one could also argue that the floating plastic jacks are another issue. If that was argued, i'd remain dormant and just maybe nod my head as a sign of silent agreement.
To sum it up, Big Jam pedals are beatiful specimens of design and manufacturing of their day. Not so much usable stuff for todays guitarists or keyboardists. I'll definitely keep my eye out and get more of these, if the price is right.
P.S. If Multivox is unknown brand to you, i suggest you check out wikipedia.