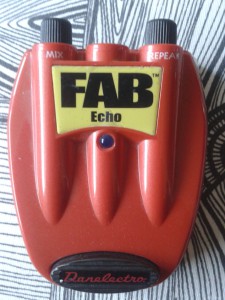 What is it?
Danelectro D-4 Fab Echo. Cheapest thing made in china. Came in a trade for next to nothing.
I usually have nothing againt using plastic enclosures. And as i stated on Fab Metal post, the build quality here is astonishingly bad. This particular unit doesn't quite reach the horrifying things inside Fab Metal, but it is still nothing i want to spend my time on. The boards are a lot neater than on the Metal distortion though. Also the components are SMD all the way, which leaves a slightly better impression.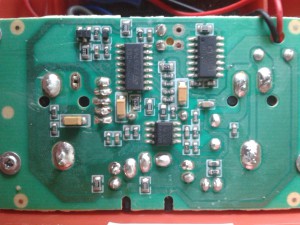 Still i don't find the boards eye pleasing in any way. No symmetry, nor any master plan at all. Don't know what the designer has been thinking when doing a layouts for these. The design itself isn't too bad. It may have looked and sounded reasonable on the designer's breadboard before it made its way forward in the construction chain. As in all Fabs, the shilding is done with paper with foin on the other side and that piece of paper is screwed to ground. Designwise…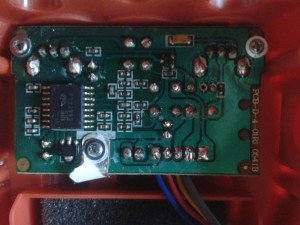 Yup. That's PT2399 digital echo processor with fixed delay time. This could be modedd to full delay by just swapping one of those left hand side SMD resistors for a pot. Personally i don't think the mod is really worth the trouble, as you can score similar sound from other china brands for pretty much the same price. That way you'll get better shielding for your box too.
This will be my last post of the Fab series. Last weekend, i sold both of these as there was just not anything interesting in either of these and the build quality doesn't please me. At all. While i do like Danelectro's boxes in general, this serie will not be collected. These will continue to give a bad name to Danelectro effects. I can clearly see why.
How does it sound?
Not too horrible. Sound exactly what PT2399 chips with fixed delay time should sound like. I'd still recommend checking out china brands for a delay instead of this…