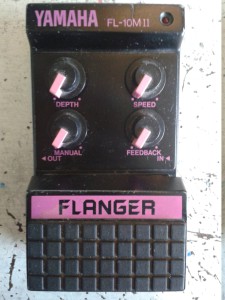 What is it?
Yamaha FL10M-II Flanger from the 10/Sound Device series, made in japan. Manufacture date unknown, but it seems like 80s build. Looks like a coin-op arcade machine now doesn't it!
The brand is quite a puzzle to me. Pianos, jet skis, motorcycles, guitars and network routers. Usually i wouldn't trust a brand that sells coffee machines and snowboards and/or something else completely unrelated. This is one exception.
One of these units that came in as defunctional. In this case, the trimpot responsible for delay time had dried up and stopped working. This time i didn't even think of replacing the trimmer but just greased it up and the beast flanges on again. Enclosure is very sturdy. Thicker metal than usual 80s things. Black and pink! What could go wrong! Here's another external shot of this beauty: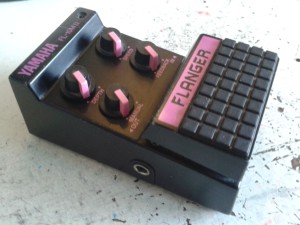 The box makes me feel good – by sound, and by in and out. Almost gives me goose bumps. Just like the guitar i'm using as my main instrument at the moment. It is probably the ugliest Stratocaster ever made (all strats are horribly ugly, heresy, i know). Sounds just amazing. If the sound came from some guitar that was cool looking i would probably just say, meh. But when something goes over the far end limit of being ugly, it usually turns itself around. Like in this case. The box is so ugly that it is on extreme side of beautiful. And there's more. Didn't know what to expect when i first opened this up. I wrote on some earlier post how i find these hand drawn acid trip-like traces pleasing. Here we have another perfect example of that – how to draw up circuit point connections with artistic point of view. I could easily live with that board image on my wall. By the way. Note the tension removing plastic addons on in/out jacks.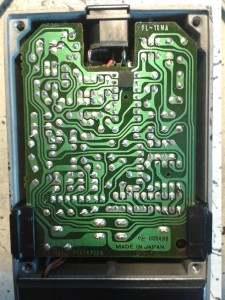 So not that it is beutiful on all sides, it is very well designed too. Insides are made of two individual boards stacked on top of each other and connected together with a ribbon cable.  Bottom board having the switching, jacks and LFO, upper board having the delay and controls.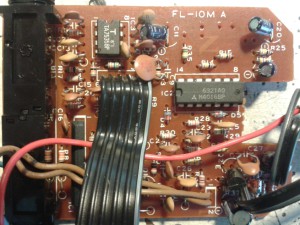 Bottom of the upper board is just as beautiful as the lower one. Just simply pleasing. The boards are thick and sturdy too. The soldering is neat and looks like the person who soldered these wanted to do a good job – and he/she did. As quality of the stomp boxes come, this one needs to be touched to feel just how well it is made. I wish more modernd boxes were like this.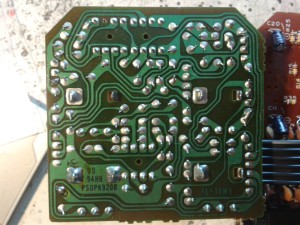 As one could guess, the delay is created by MN3102/MN3207 pair. The controls are Depth, Speed, Manual and Feedback. Manual and feedback can do really cool things as the modulated signal is fed back rather than trying to keep it clean. With certain low settings, this can be used as a analog delay too – Very, very short one, but still the option exists.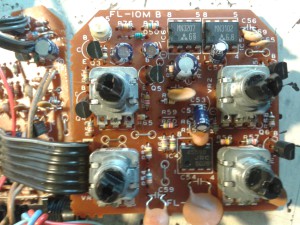 Even the pots are sturdier than what can be found in usual boxes from the era. Two boards are well used. The variety of controls will take a lot of board space, so i wouldn't even call this overengineered piece of first class japanese stomp box design. So glad i got it. Thanks to Mr. M. Säisä!
How does it sound?
Great! One of the greatest flangers ever. Very wide coltrols from mild, short analog delay to massive, almost velcro-like sweeps and endless feedback. From standard guitarist flange to power electronics style noise guru sweeps. Underrated brand, underrated box and very underrated sound. Definitely a  keeper. I could sell off all the other flangers before this one. I want to hype the aesthetics one more time; Black & pink, Coin-op arcade box, acid trip traces, sturdy components and overall feel.